Families~ The beef stick orders came in and will be coming home with your child, if your order is small. If you have a larger order, please pick up in our school office today or tomorrow before 4:00. Call Carly if you'll need to make other arrangements~719-3190.

Dear Families~ Due to weather, RP schools will be closed today, Friday, November 18th.

Reeths-Puffer Schools will be closed Friday, November 18 due to weather conditions.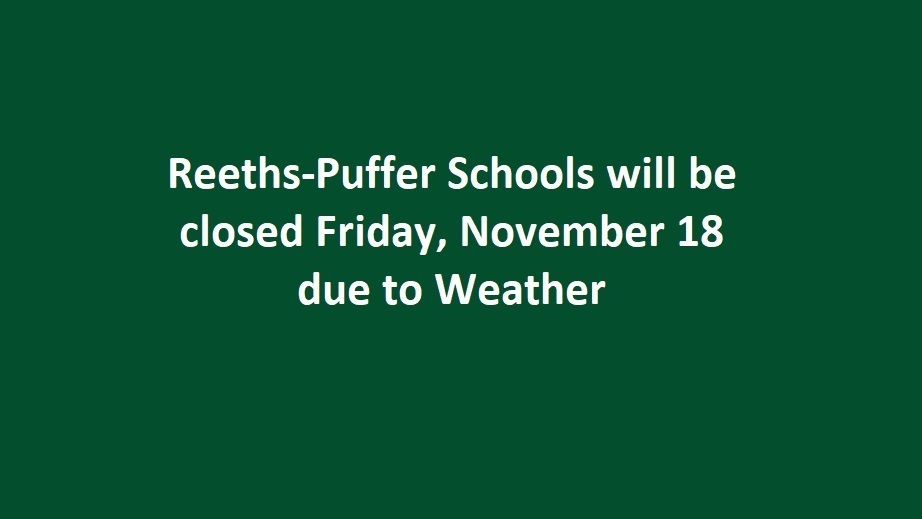 Dear Families~ The beef sticks were ordered from a company out of Florida. They were affected by the tropical storm, so the orders will be sent a little later than we had planned. As soon as we have an arrival date, we'll let you know. Our PTO is very sorry about any inconvenience this may cause and appreciates your understanding.


Dear Families~ Our PTO meeting is cancelled for today. We look forward to seeing everyone on December 14th at 4:00.

Dear Families~ Below is the link for this week's Family Newsletter. Please note that the Scholastic Book Fair will be open tomorrow evening until 6:00. Enjoy your week!
https://www.smore.com/ah1qe


Dear Families~ We have 21 cars for our Trunk or Treat event. Thank you! Mrs. Blaser, our PTO president will be sharing details for those who are helping. If you offered to donate a bag of candy, we'll take those at any time! The event starts at 6pm and runs until 7pm, or until the candy runs out. Hope to see LOTS of families this Friday!


Dear Families~ Below is the link to our latest Family Communication. It is packed with information. Please take a few minutes to read. Enjoy your week!
https://www.smore.com/jdu0z

Families, A reminder that we don't have school tomorrow due to teacher training. See you on Monday!

Dear Families~  This is a LATE edition of our newsletter, as we wanted to update with our walkathon information and photos.  We had such a GREAT day!  Look forward to our next Family Event on Friday, October 28th with our Trunk our Treat event.  More information to come!  Remember, no school on Friday due teacher professional development.  Enjoy your week!
https://www.smore.com/jdu0z

Walk-a-thon Day Sunday, October 2nd @ 1pm RPTLE Students, Staff & Families, We are so thankful for the support we have received for the Walk a Thon this year! This event is rain or shine. As of right now there is no rain in the forecast! As we all know, that could change. We ask you to be prepared and bring umbrellas or sunscreen. ● Come enjoy a walk around the lakes! We will start and end at Twin Lake Park. A hot dog dinner is available to purchase at the park afterwards for $3. If you sent in lunch money already, we will have that noted. ● Get your silly string hand ready!! We will announce the students who earned the prize to Silly String Mrs. Schmitt. This will happen after lunch!! These students raised $100 or more! ● I currently have two water break stops along the route. We could use a couple more. ● We are also in need of volunteers to drive golf carts to watch traffic along the route and to help serve lunch. Please contact Twin Lake PTO President Yolanda Blaser, email
yrb809@gmail.com
or text/call 313-401-5839 to volunteer. ❖All other prizes earned besides silly string will be given the following week. "Pie a teacher in the face '' will be during an assembly at school. Date TBD Additional information may be found in the link below.
https://5il.co/1iphv

Dear Families~ If you ordered Mums, they will be available for pickup tomorrow, Wednesday from 3-6. Please pull behind the school (by the dumpsters). Mums will be displayed in this parking area.



Families~ We hope that you enjoyed the beautiful weekend! Below is the link to our weekly newsletter. Sincerely, Your RPTLE Team
https://www.smore.com/u1c2r

Dear Families~ Welcome back to school! Attached please find our PTO schedule for the school year.
https://5il.co/1h0vi

Dear Families, Many of you have asked for supply lists for your child. Below is a generic list for each grade level. Your child's teacher will have a more detailed list that will be shared at our Ice Cream Social/Open House on Tuesday, August 23rd from 5-7 pm. Kindergarten Supply List: Backpack Clorox Wipes Baby Wipes Kleenex Hand sanitizer Closable sandwich bags Closable gallon-sized freezer bags ELMER's glue sticks Crayola 24-count crayons Pencils Highlighters Expo Markers, chisel Expo Markers, black, fine point Post-it Notes Large pink erasers Extra snacks – First Grade Classroom Supply List: Full Size Backpack (Labeled with Full Name) Water Bottle (Labeled with Full Name) #2 Pencils (Ticonderoga is preferred) Plastic Pencil Box 24 pkg Crayola Crayons (2 packs) Crayola Markers Black Dry Erase Expo Markers Erasers Scissors 4 Glue Sticks Any Donations of items listed below are greatly appreciated! Kleenex Ziplock Bags (Sandwich Size) Hand Sanitizer Clorox Wipes Extra Snacks (21 students) Construction Paper Playdough Band-Aids Earbuds Second Grade Supply List: 2 boxes of Kleenex 3 packages of baby wipes 3 canisters of disinfectant wipes 1 roll of paper towels Ziploc bags – all sizes accepted (snack-size, sandwich, quart or gallon) 24 PRE-SHARPENED #2 pencils 3-pack of pink rectangle-shaped erasers 10 small ELMER'S glue sticks or 5 large ELMER'S glue sticks (Please get the ELMER'S brand, as other brands don't work as well!) 1 24-pack of CRAYOLA crayons (Please get this size only, not bigger! Also, CRAYOLA crayons work much better than off-brands.) 1 12-pack of CRAYOLA colored pencils (Please get this size only, not bigger! CRAYOLA colored pencils are much better than off-brands.) 1 set of 8-12 pack CRAYOLA markers (again….Crayola please!) 3 highlighters (any color) 3 Expo Low-Odor BLACK dry-erase markers Third Grade Supply List: Student Supplies: Pencil Box Pencils Elmer's Glue Sticks Crayons: 24 Pack Colored Pencils Markers Expo Markers (Black) 4 Packs: Post It Notes Eraser Caps 1 in. Clearview Binder (Kolbe Only) Book Box: (Miller Only) Water Bottle: (Insulated is Best, No Spill, Only filled with clear Water) Headphones or Earbuds: (Headphones work Best) Classroom Donations: Tissues Paper Towel Disinfectant Wipes Hand Sanitizer Ziploc Bags: (Sizes Needed: Sandwich, Quart, Gallon, Snack) Fourth Grade Supplies: INDIVIDUAL STUDENT LIST: 1 pencil box Eraser caps 4 Pencils for box (Teacher will store extra) (Ticonderoga is best) Thin highlighters- 1 ea. pink, yellow, green, blue 1 24-pack of Crayons 1 24-pack colored pencils 2 large glue sticks (Teacher will store extra) Student Scissors 3x3 Sticky notes (with and without lines) Dry erasers 4-pack (thin) markers 2 Vinyl or sturdy 2-pocket folder with prongs 2 packs of wide-ruled loose-leaf notebook paper Small individual hand sanitizer that can be refilled 1 pair of headphones/earbuds (headphones work best) Water bottle (no spill, insulated is best) CLASSROOM SUPPLY LIST: Band-Aids Large Kleenex/tissue boxes Ziplock baggies~ sandwich, gallon, and snack size Disinfecting table wipes Hand sanitizer Ticonderoga pencils to add to the shared stock These are suggestions and are not required. Thank you for your support!