Daily Announcements - Oct 3, 2022 - Student News - Picture Retake is Wednesday, October 5th!! Bring your smiles!! - Ladies...Have you ever thought of attending Law School? There is a new program starting up for any girl interested in pursuing law by our Muskegon County Defenders Office. If you are interested, please stop in Student Services to sign up for more information. - Attention students! School pictures have arrived. If you ordered pictures, please see Mrs. Gordon or Mrs. Somerville in the reception office. - Lost & Found is located in the Reception Office! Please come look through it! These items would LOVE to rejoin their rightful homes! - - Sports News- Attention any boys going out for JV or Varsity Baseball next Spring! There will be workouts at 3:15 on Wednesdays at the Varsity Baseball field. Any questions see Coach Attig. - On Saturday the Freshman Volleyball team fought hard in the biggest tournament of their season, falling to FHC in the silver bracket finals. Stat leaders of the day were Abby Hill, Ashley Bradley, Carlee Bowen, Danika Johnson and Emma Lamphere, but shoutout to Izzy Ledl and Makayla Disselkoen who had clutch aces and assists late in the finals. - Lady Turtles Co-Op placed 5th over the weekend at Ottawa Hills invite. Freshman, Sage Grimm, had personal bests in the 50 & 100 Free Styles. Way to represent Rocket City Sage! Next meet is tomorrow @ Holland Aquatics Center, 6:30pm.

Shout out to our incredible volleyball game day support crew. Ava Klopp, Ava Mavis, and Grace Seiber. These ladies are awesome and always bring the positive energy.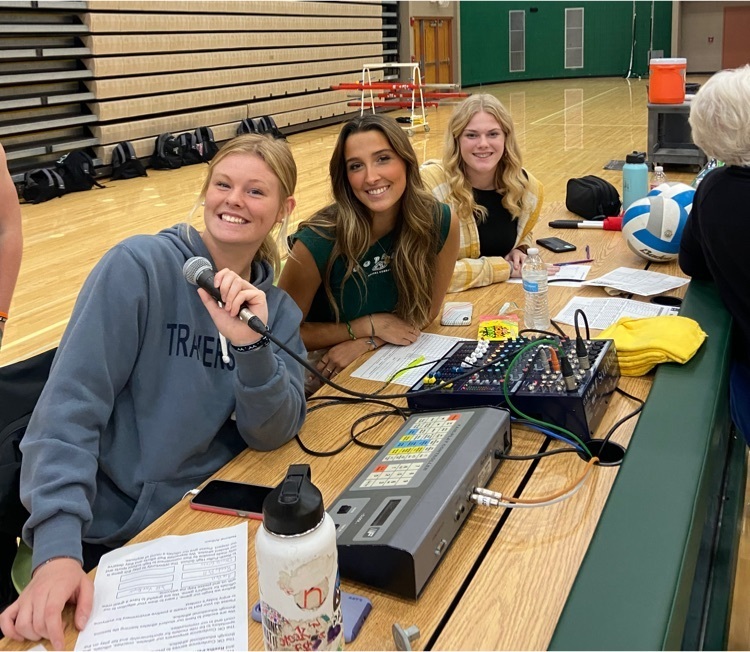 We are excited to host exchange students this year from Germany, Spain, Australia, Brazil, Poland, Thailand, Denmark, and Italy. The learn about Rocket City, USA and we also get to learn from them! Our leadership class hosted a breakfast to welcome them to RPHS.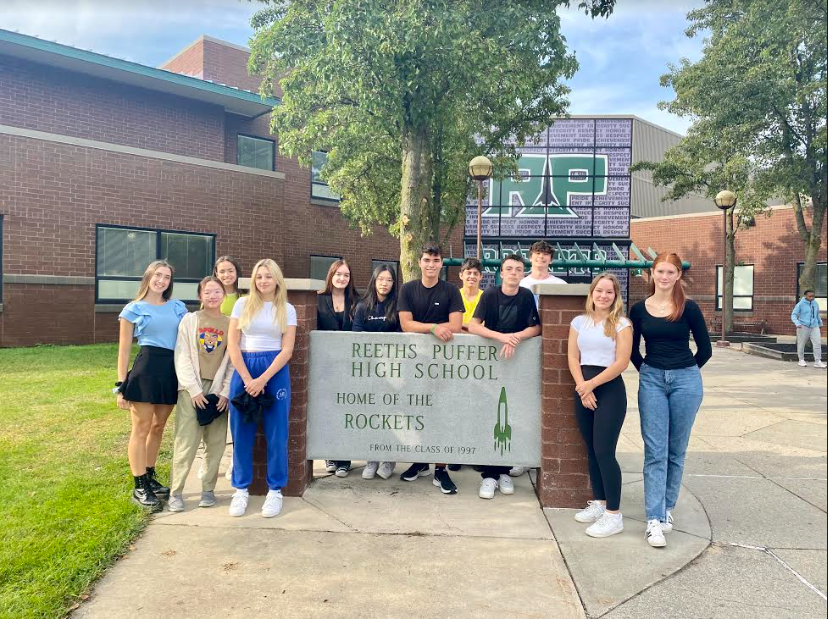 Always fun collecting trophies! Great work freshman volleyball, the Rockets won the Fruitport invitational.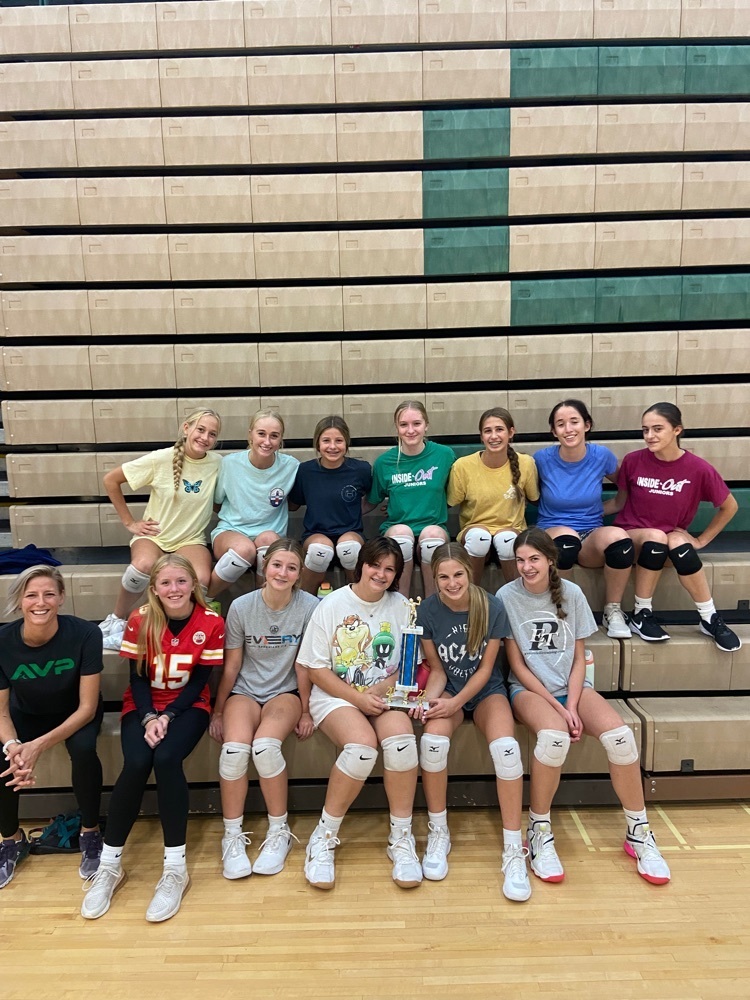 We are excited to give a special shout out to one of our amazing students! Aaron had the opportunity to put his art skills and creativity on display by painting a car for Art Prize. This project pulled together two of Aaron's loves; cars and creativity. Feel free to vote for Aaron (Garden Of Love):
https://www.westmichiganhondadealers.com/design-and-drive-voting/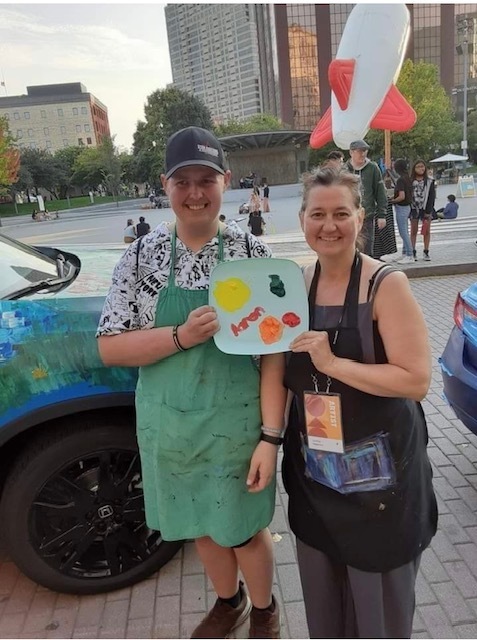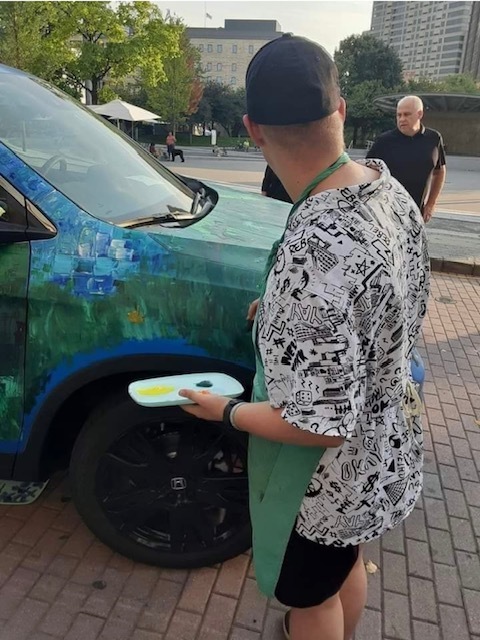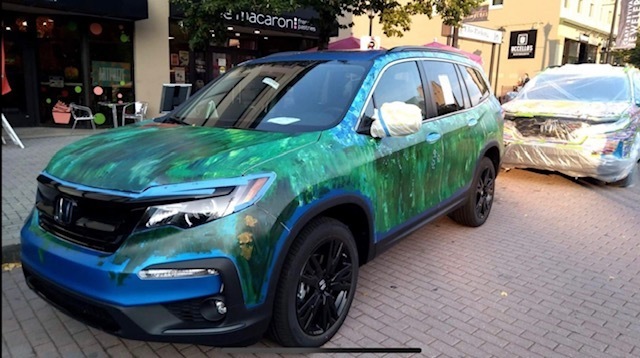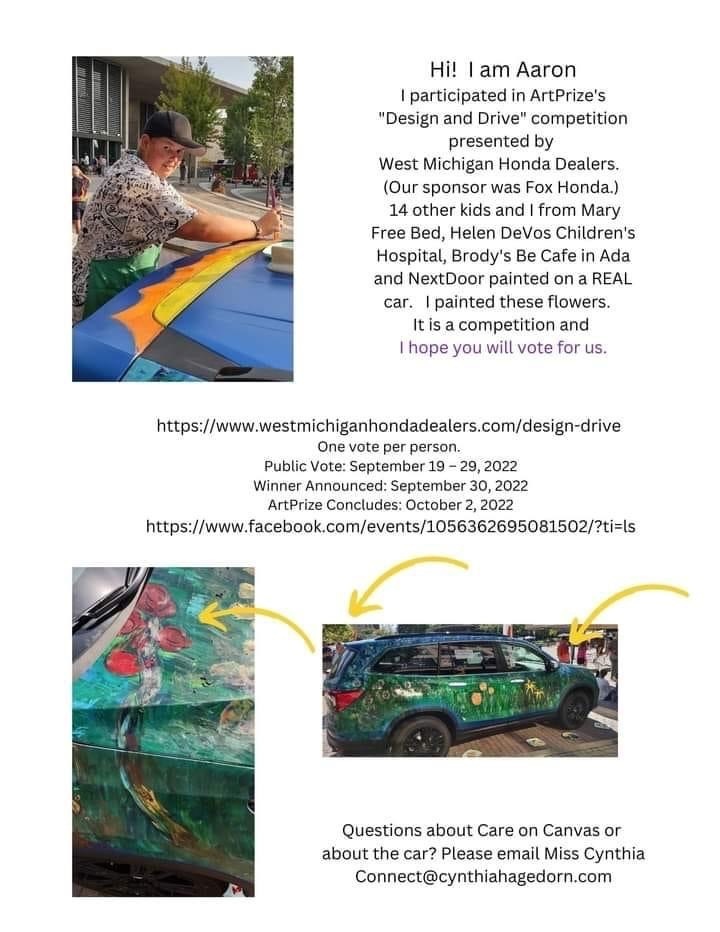 We are stacked with college rep visits during both lunches in the Learning Commons (all students are welcome to stop in): SEPTEMBER 20: GRACE CHRISTIAN UNIVERSITY AND UNIVERSITY OF MICHIGAN SEPTEMBER 21: DAVENPORT UNIVERSITY AND MICHIGAN STATE UNIVERSITY SEPTEMBER 22: NORTHERN MICHIGAN UNIVERSITY SEPTEMBER 27: GRAND VALLEY STATE UNIVERSITY SEPTEMBER 29: WAYNE STATE UNIVERSITY OCTOBER 4: CENTRAL MICHIGAN UNIVERSITY OCTOBER 5: HOPE COLLEGE OCTOBER 6: NORTHWOOD UNIVERSITY OCTOBER 11: WESTERN MICHIGAN UNIVERSITY OCTOBER 12: FERRIS STATE UNIVERSITY AND ADRIAN COLLEGE OCTOBER 13: ALMA COLLEGE OCTOBER 18: LAWRENCE TECH UNIVERSITY OCTOBER 19: CALVIN COLLEGE OCTOBER 25: SAGINAW VALLEY STATE UNIVERSITY OCTOBER 26: LAKE SUPERIOR STATE UNIVERSITY OCTOBER 27: KALAMAZOO COLLEGE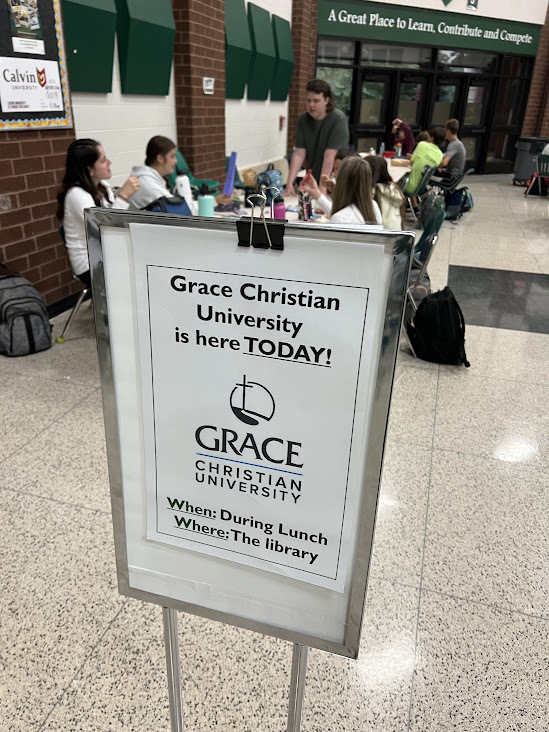 Congratulations to Bruce Latsch as our first ever Pilot of the Pit. This honor is for a student that demonstrates the Rocket Way as a spectator at RP events. Our student leadership group describes that "Bruce brought the spirit and energy to every football game so far this year. He shows up each game, dressed to impress with the theme of the week. You can probably see Bruce running back and forth in front of the student section, giving high fives and starting "the wave". Keep an eye out for our first ever Pilot in The Pit this week and try to match his energy!" Bruce received the honor of the astronaut helmet and certificate this week which will get handed off to a new student next week for showing school spirit with respect, pride, and integrity. Pilot of the Pit was an idea created by students and executed by students. We can't wait to see their idea "take off". Our students make Rocket City a pretty special place to be! Congrats again Bruce.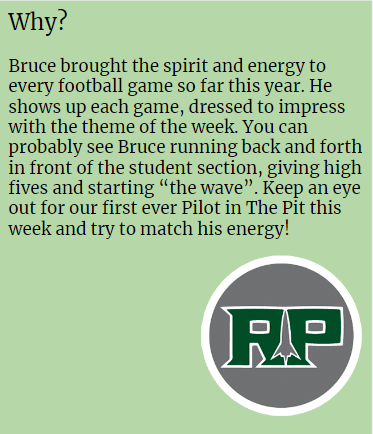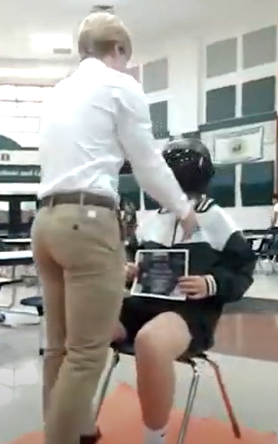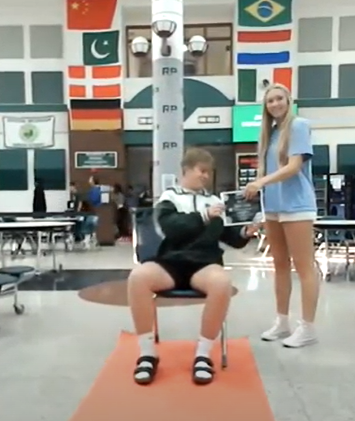 Join us for Senior Parent Night and learn more about college/post- secondary preparation.

STATS (Straight Talk About Tough Stuff) will be providing a space for parents to ask questions and learn more about youth substance use. The goal of this initiative is to educate students about the short-term and long-term consequences to negative choices. Additionally, we are hoping to open the door to family conversations around the topic. Audience: Parents of grade 5-12 students. Presenter: Nate Johnson (second from left in photo), Fresh Coast Alliance When: Monday, September 12th at 6:30 pm -8:00 pm Where: Reeths-Puffer Middle School Questions: Contact Jennifer LaChapelle (
lachapellej@reeths-puffer.org
) or Nate Johnson (
natej@freshcoastalliance.org
)

Homecoming Court 2022 - Senior Court (alpha order) - Ladies: ● Kennedy Hynde ● Jordan Jacobs ● Alison Jakobi ● Mirial McNeil ● Malaina Peterson - Gentlemen: ● Ernest Jones ● Dylan Mason ● Brady Ross ● Kyle Schlaff ● Tyviea Williams - Junior Representatives: ● Emerson Buzzell ● Chase Smith - Sophomore Representatives: ● Chloe Brainard ● Yuri Mills - Freshmen Representatives: ● Madilynn Smith ● Payton Sircher - Future King and Queen: ● Ayla Frazier ● Kason Aamodt
This is the beginning of a great senior year! The class of 2023 is ready to do great things and soak up every minute.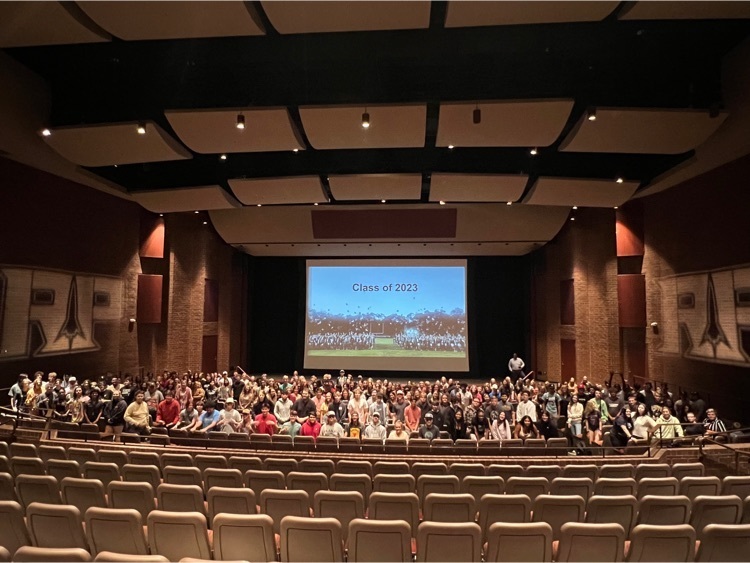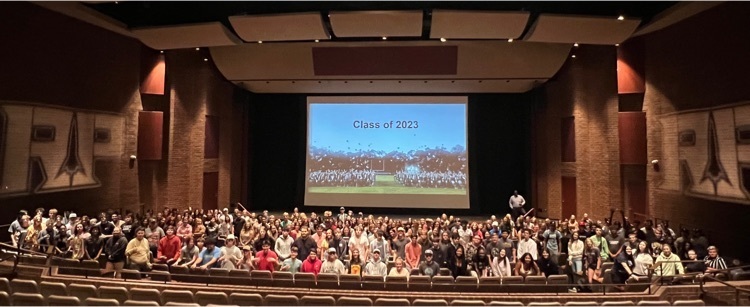 PALS students eventually mentor and partner with our younger students all over the district, but the practice with problem-solving starts together.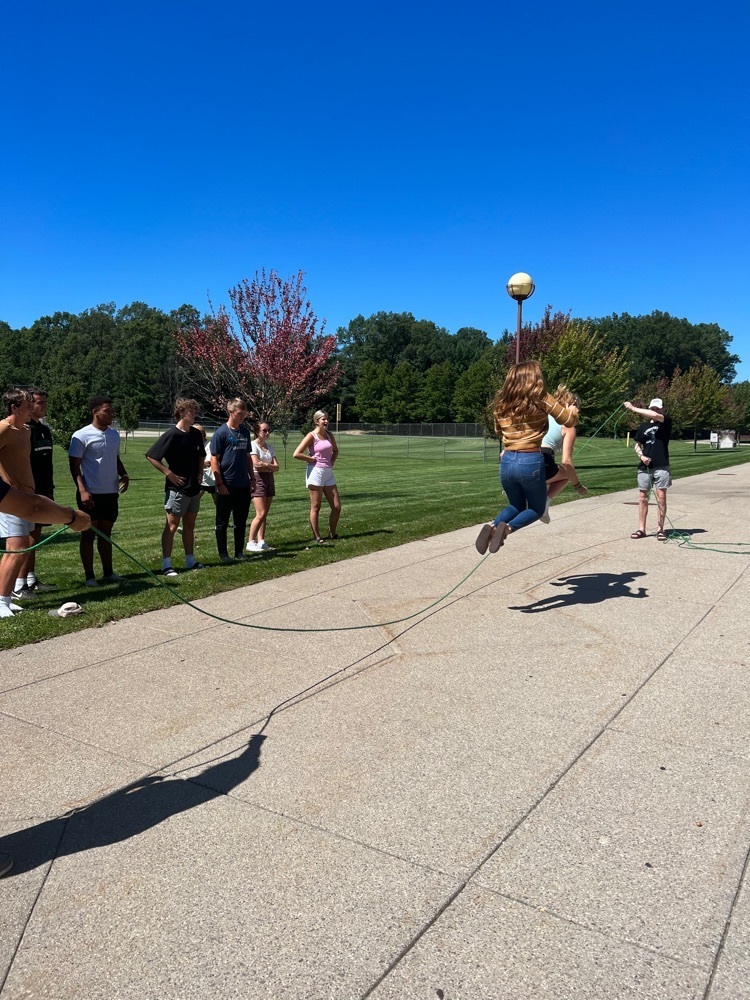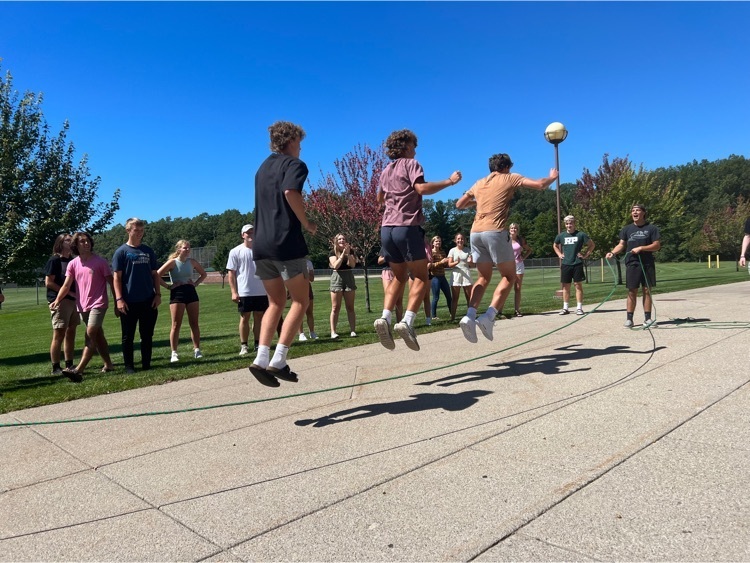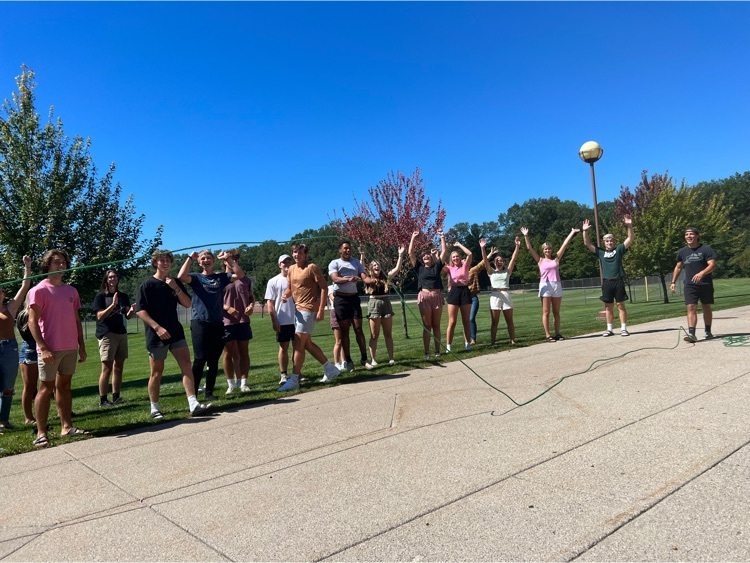 Registration starts soon 9-11 and 12-3:00 each day Seniors- 8/18 or 8/19 Juniors- 8/18 Sophomores- 8/19 Freshman-8/22 Complete your on-line registration in advance to make it go quickly.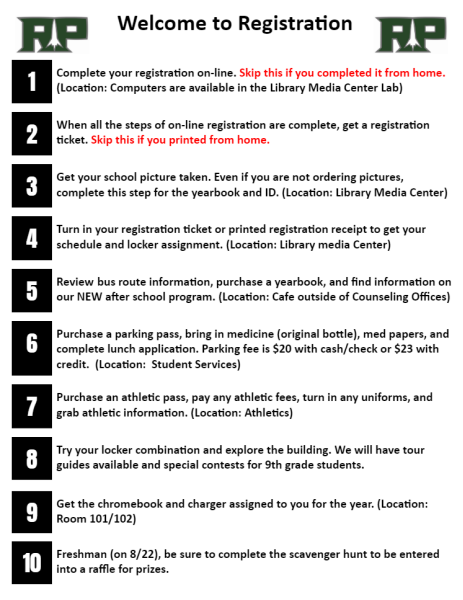 We can't wait to see you on August 25th before the first home football game!! GO ROCKETS!!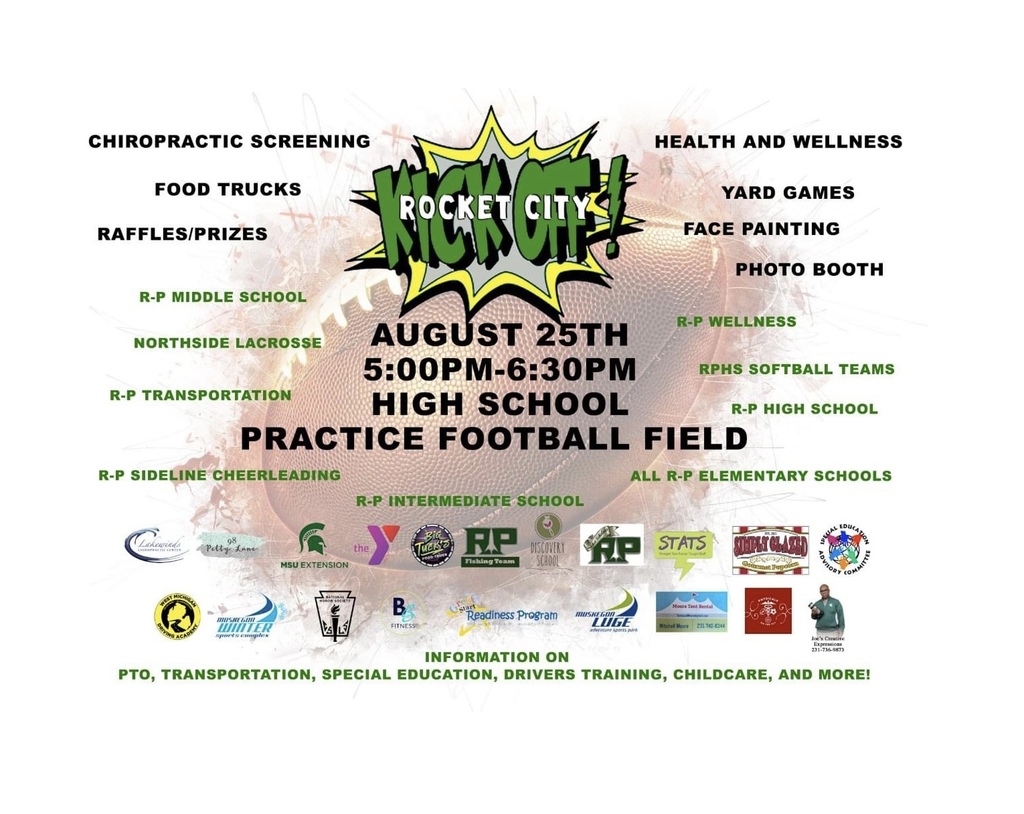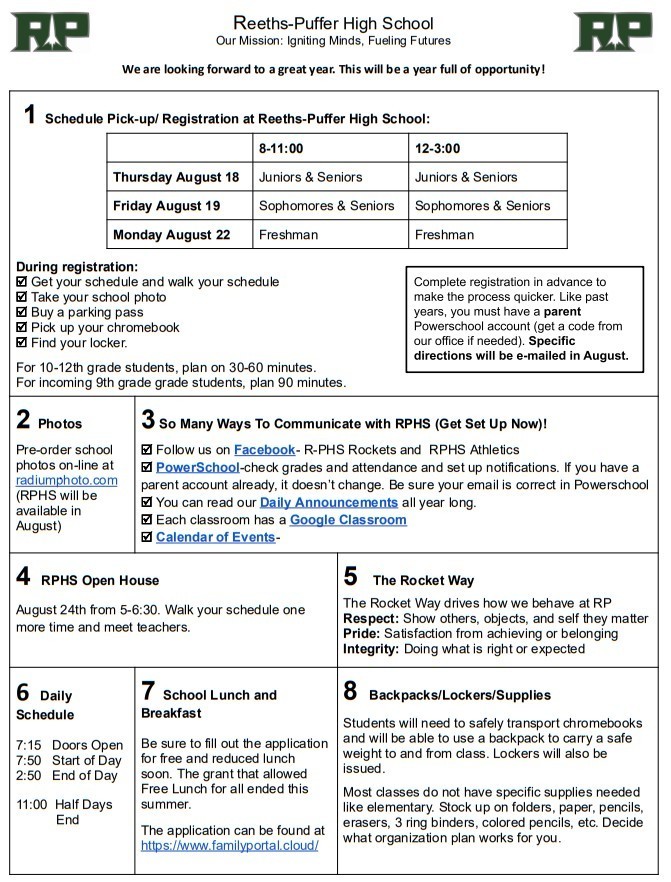 Reeths-Puffer is excited to partner with Muskegon Area District Library to provide this great service to our community. Check it out starting August 17th!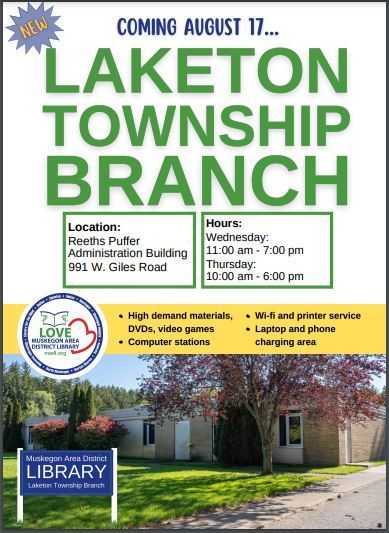 And another great opportunity. Muskegon MSU Extension and 4-H, Muskegon Career Tech Center's Environmental/Veterinary Sciences Program, and the MSU Institute of Agricultural Technology at Muskegon Community College will be hosting an open house for youth in grades 7th-12th and their families on Thursday, August 18th, 2022 from 6 PM to 8 PM. The open house will be a chance to learn more about the various youth agricultural programs offered in Muskegon County & the greater West Michigan area. A light dinner will be provided to all registered participants, so be sure to register today:
https://events.anr.msu.edu/westmiyouthag/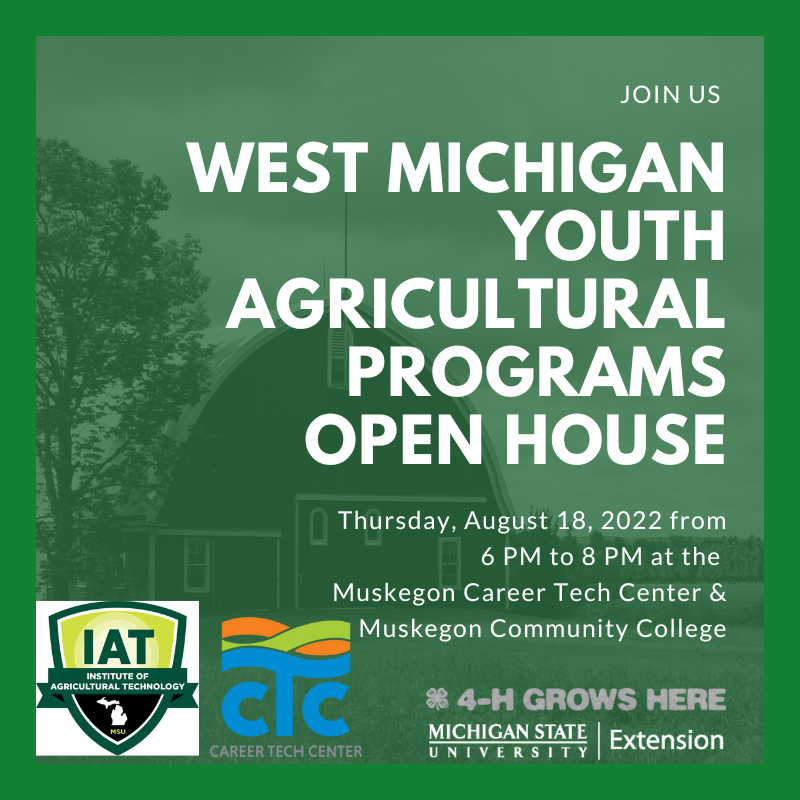 Check out this great FREE opportunity! Muskegon 4-H Leaders Council invites all youth ages 5-19 years old to the Muskegon Luge Adventure Sports Park on 8/17/2022 for a day full of fun and learning! This FREE event is for youth who want to learn more about the great world around them, while also experiencing some of the fun that 4-H and the Sports Park has to offer. Registration includes a free hot dog lunch, the choice between different 4-H educational sessions throughout the day, and a gift card that can be used after the 4-H clinic wraps up at 3:30 p.m. to purchase admission to the Muskegon Luge Adventure Sports Park for the remainder of the day. The park closes at 6:30 p.m. that day. Activities at the Park that youth would be able to participate in would be Park Staff-led activities such as the summer luge, zip line, and archery. Registration is now open!
https://events.anr.msu.edu/muskegoncelebrate/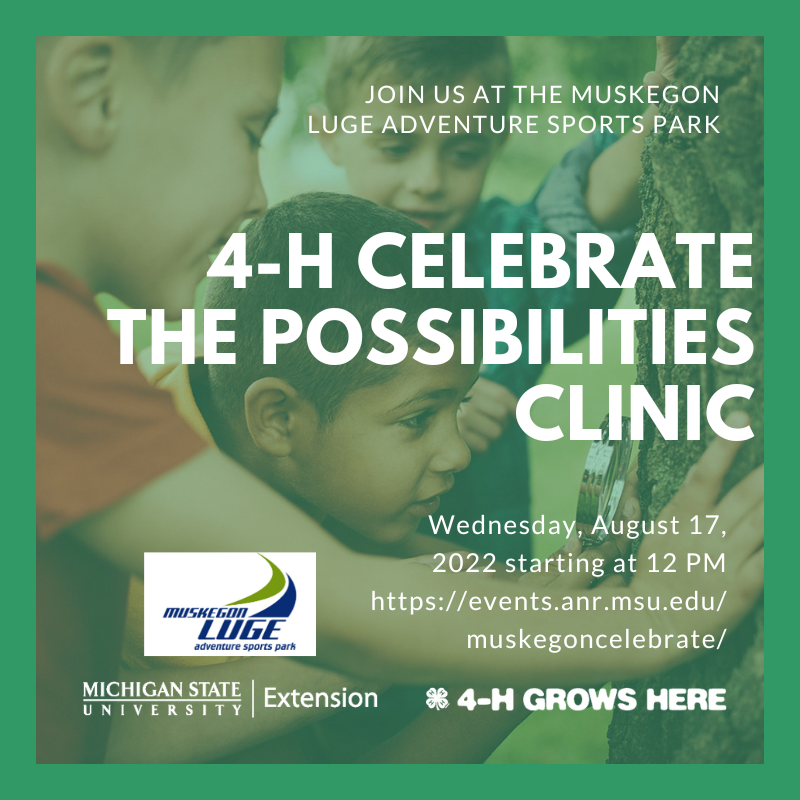 There were MANY reasons to be proud of the class of 2022. Their hard work, leadership, service, and talent were recognized with 1.4 million dollars in scholarship money (and that is actually a lower estimate than the actual amount). Congratulations to the class of 2022. There is no limit to the impact you will have on the world! Go ROCKETS!