Swimming Calling ALL current 8th grade girls interested in participating in Co-Op Swim and Dive Team! There will be a sign-up meeting at Mona Shores High School this coming Monday, May 23rd at 7pm. No experience is required. Come out and have some fun, get a great workout, and meet a lot of new friends! Get a handout in the main office for more information.
Middle School Football Meeting June 2, @ 5:00 in the MS cafeteria for parent and student to meet Coach Kater, Coach Warner, and the middle school staff.
Volleyball Attention all girls interested in playing volleyball next year, please pick up a camp flier and summer calendar in the main office.
Sideline Cheer Tryouts Future 8th grade students interested in participating in RPMS Rockets Sideline Cheer must attend tryouts from 3:30-5pm at Reeths-Puffer Intermediate on Wednesday, May 25th and Thursday, May 26th. Students can ride a bus to the high school then walk to RPI! All genders are welcome! Contact Coach Brittani Moore or Mr. McClary with any questions.
Track Today the RPMS Rocket Track team takes on Hamilton at Reeths-Puffer High School. Events start at 4pm.
The Reeths-Puffer Junior Elite Softball team was not able to defeat Newaygo last night. The rockets were great out of the gate with two exciting innings at bat. Despite the early 7-1 lead and GREAT base running, the table quickly turned. With a tough second inning the lady rockets held tough, kept their chins up and battled it out. Some highlights from the game were hard hits to the outfield including a triple by Jaylynn Acre and a double by Ava Gibbs and multiple singles. The Rockets return home on Monday, May 16 at 4:30 against North Muskegon. Come out and cheer on the Lady Rockets as they play at Reeths-Puffer Middle School.
Track Meet this afternoon at Mona Shores @ 4:00 PM
Reeths-Puffer Junior Elite defeated Beach with a 18-6 win. The rockets got on the scoreboard in the first inning bringing home nine runs. Nola Hower was in the circle for Reeths-Puffer and only surrendered six runs, on ten hits, in four innings. Hower struck out three and walked zero. Reeths-Puffer Junior Elite team racked up 12 hits on the day. Jayla Trepanier, Ava Gibbs, Madi Reichert, and Makenzie Jacobs all managed multiple hits for Reeths-Puffer. Trepanier went 3 for 3 at the plate to lead RP in hits. Ella Voorhies led RP with six stolen bases as the RP ladies ran wild on the bases stealing 34 total. Annabelle Darke earned "Player of the Game '' with her excellent catching throughout the game, tagging an out at home and catching two pop flys. Come out and support our Lady Rockets on Monday, May 9 as they take on Oakridge at 4:30 pm on the Reeths-Puffer Middle School Softball Field. Gooooooo Rockets!
The Rockets Elite Softball Team defeated Spring Lake with a 15-8 win yesterday. Makenzie Jacobs was the leadoff batter with an in-park home run! Jayla Trapanier had an AMAZING running backwards catch in the second inning. The Rockets', Jaylynn Acre hit a beautiful line drive right up the middle bringing in Madi Reichert for an RBI double. In the 4th inning Makenzie Jacobs had another beautiful hit to right field bringing in Kayla Major for an RBI triple. Finally, to close the game and clinch the win Madi Reichert hit a hard line drive past the third baseman bringing home Ava Gibbs for an RBI double. On defense Caydence Rettinhouse did a great job in center field. Overall, these girls have great communication on and off the field and constantly empower one another. The Rockets are currently 3-1 and their next game is on the road, against Beach, on Wednesday, May 4 at 4:30.

Spring Color Run/Walk at RP Intermediate! Sunday, May 22. Registration 12:15. Race at 1:00 pm. $5 per person - cash only! Funds to benefit the Health and Wellness Committee of RP Schools and Students. Contact:
shefferd@reeths-puffer.org
or
nautaa@reeths-puffer.org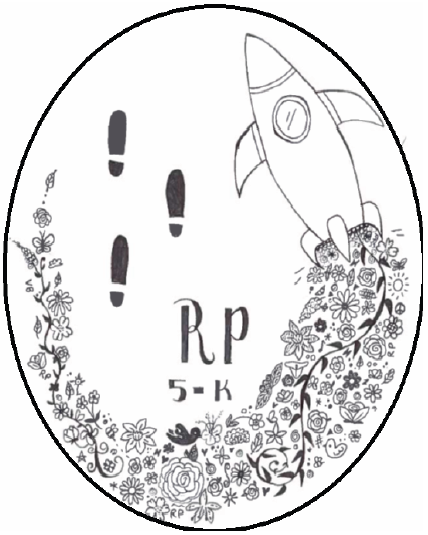 7th grade boys interested in basketball and improving their game should stop by the office to sign up for a couple of opportunities in the month of June. One opportunity is a Wednesday evening middle school basketball league in Whitehall throughout June, and another opportunity is a tournament on Saturday, June 18th. Stop by the office to sign up if you are interested.
Reeths-Puffer Jr. Elite Softball Despite a rough first inning, the Lady Rockets battled back with 7 runs. Top performers for the Rockets were: Madi Riechert with her first career home run with a bomb hit to right field and Caydence Rettinhouse who earned player of the game with two solid hits, great steals and three AMAZING catches, including a diving catch in center field. Come support your Lady Rockets at their next home game which is Wednesday April 27 at 4:30 at Reeths-Puffer Middle School against Holton.
MS SOFTBALL NEWS - The Reeths-Puffer Junior Elite Softball team is sitting with a 2-0 record after their second away game WIN. The Lady Rockets pounded the softballs and had smart base running to give RP a 2-0 lead in the first inning. Grace Klimsza had an AWESOME hit bringing in a run with her double. In the second inning Ava Gibbs hit a double and right after her AWESOME hit, Jayla Trepanier hit a double, bringing Gibbs home. Makenzie Jacobs hit a double in the 3rd inning bringing the Rockets score to 9-2. Finally in the 4th inning Jayla Acre hit a BOMB way over center fielders head bringing home Makenzie Jacobs and Caydence Rettinhouse with an almost HOME RUN. Beach could not overturn the score and the game ended in the 4th inning with a 12-2 Win! Ella Voorhies and Nola Hower did a great job pitching for the team. While Madison Reichert, Jayla Trapanier, Ella Voorhies, Caydence Rettinhouse, and Makenzie Jacobs were base stealing machines. Player of the game was Jayla Trapanier with 6 OUTSTANDING plays at shortstop. Congratulations Lady Rockets on this FABULOUS win. We would love your support at our next games. Please come out and support the Reeths-Puffer Junior Elite Softball team next week as they have two home games. Monday April 25 at 4:30 against Mona Shores and Wednesday, April 27 at 4:30 against Holton. Both games will be played on our recently renovated Middle School Softball Field. Go ROCKETS!
TRACK MEET ON MONDAY 4/18/22 - Track Meet at Home vs Hamilton @ 4:00 p.m. Let's Go Rockets!
FRIDAY LIVE ANNOUNCEMENTS - Be sure to check your email or visit tinyurl.com/RPMSFridayLive to sign up to participate in this week's Friday Live Announcements. You must demonstrate The Rocket Way and have no major referrals to participate.
COLOR GUARD - The 2022 Reeths-Puffer Color Guard will have an Open Clinic on Wednesday, April 13th from 5pm – 7pm in the high school cafeteria. Any 8th - 12th grader planning on performing in the 2022 fall color guard should plan on attending. There are flyers in the main office. If you have any questions please reach out to Mr. Harris
harris@reeths-puffer.org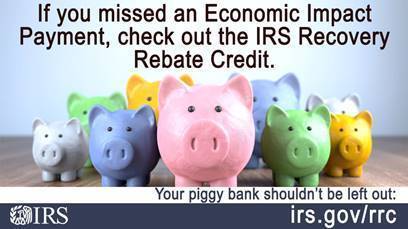 Congratulations to the Middle School Winterguard team and the Varsity Winterguard team on both of their 2nd place wins at the Flushing High School Competition on Saturday. The Middle School Team will travel to State Competition this weekend at Saginaw Valley State University! Good luck to everyone on the team!
CONGRATULATIONS ROBOTICS TEAM! The Middle School Robotics Team qualified for Nationals over the weekend and will compete again in June. The team is comprised of Brayden Ross, Trent Plummer, and Cooper Ross. In addition to qualifying for nationals, there were a number of additional accomplishments including; 1st place in video 2nd place in mission 2nd place in obstacles 1st place engineering notebook

You may be eligible to up to $1,400 from the #IRS for your child. Parent must claim the 2021 Recovery Rebate Credit on their tax return to get this money. Learn more at
http://go.usa.gov/xtnRC