Preschool Round Update for 2020-2021 School Year: In person pre-school round-up will not happen this spring. However, we will be conducting pre-school round-up interviews over the phone and all needed documents can be mailed or delivered to us at a later date. To schedule an appointment, please call 893-1091 or 766-3443 and leave a message. Our offices are currently not staffed but a member of the early childhood staff will receive your message and call you back to schedule a time to meet via phone. Thank you!

Summer Meal Pick Up - 7 days of breakfast and lunches will be available for students throughout the summer. Meal pick-ups are MONDAYS 1:30 - 2:30 pm, Giles Side parking lot double doors at the High School. This program is OPEN and FREE to all RP students and any other child in the community that is under 18 (or 26 with special needs).

K-3 Reading Corps - AmeriCorps stipend positions! Make a difference in our community and join Michigan Education Corps as an AmeriCorps Reading Interventionist. Central Elementary and Reeths-PufferElementary are looking for reading interventionists to give their time and talent to help our kids become successful readers and learners. Interventionists serve students one-on-one during school hours throughout the school year. No matter if you're a recent grad, career changer, stay-at-home parent or retiree, you can make a great interventionist. No experience? No problem. Michigan Education Corps provides comprehensive training in scripted interventions proven to help students learn, so interventionists are well equipped to help students grow. Part-time and full-time positions are available. Positions begin September 7, 2021. Perks as an interventionist ● Receive a stipend every two weeks ● Complete experiential and training hours toward the Michigan Youth Development Associate (MI-YDA) credential ● Build your skills, network and resume ● Earn up to $4,441.50 for college tuition or federal student loans. Tutors 55 and older may gift the award to their child, grandchild, stepchild or foster child. ● Free health insurance ● Free childcare assistance for those who qualify ● Federal student loan forbearance Ready to be the change for struggling students? Learn more and apply at mieducationcorps.org. Questions can be sent to Ariel DuVal-Zinn, Resourcing and Recruitment Partner at
aduvalzinn@hopenetwork.org
or call 616-729-2805.

Summer Meal Pick Up - 7 days of breakfast and lunches will be available for students throughout the summer. Meal pick-ups will be MONDAYS 1:30 - 2:30 pm, Giles Side parking lot double doors at the High School, starting June 21. (No pick up the week of July 5) This program is OPEN and FREE to all RP students and any other child in the community that is under 18 (or 26 with special needs).

The Emergency Broadband Benefit Program is a Federal Communications Commission (FCC) program that provides a temporary discount on monthly broadband bills for qualifying low-income households. If your household is eligible, you can receive: >Up to a $50/month discount on your broadband service and associated equipment rentals >A one-time discount of up to $100 for a laptop, tablet, or desktop computer (with a co-payment of more than $10 but less than $50) Only one monthly service discount and one device discount is allowed per household. The FCC has announced that consumers can begin applying for and enrolling in the Emergency Broadband Benefit Program on May 12, 2021. The program will end when the fund runs out of money, or six months after the Department of Health and Human Services declares an end to the COVID-19 health emergency, whichever is sooner. Link:
https://getemergencybroadband.org/

Support our students and help them gain the confidence and skills needed to succeed. We're looking for individuals to serve as AmeriCorps members this summer (June 14 - August 14) with Michigan Education Corps Summer Corps. Learn more and apply at
https://bit.ly/MECsummer20
.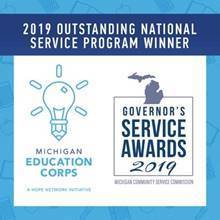 Meet our Parent Support Partner, Chace Willard! CHACE CAN HELP • Navigate resources for parents that have youth with complex needs • Connect with other parents with similar lived experience • Advocate alongside you when working with the school or a child-serving system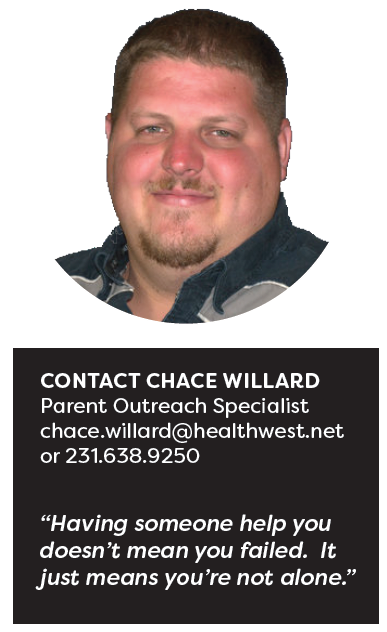 Reeths-Puffer Schools was awarded a Drug-Free Communities Support Program grant by the White House Office of National Drug Control Policy, in cooperation with the Centers for Disease Control and Prevention. The $125,000 annual grant, renewable for 5 years, will support the Straight Talk About Tough Stuff (STATS) Coalition focused on youth vaping tobacco and drug use prevention.

Free flu shots through Dec. 12 at Meijer!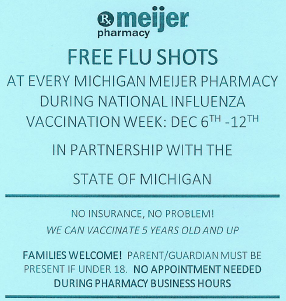 Good morning Parents and Guardians, There was no "playbook" for how to "do school" in a pandemic. As such, we've researched, learned, implemented, adjusted, succeeded in some cases, and temporarily failed in other cases. One thing we haven't done is stopped trying to do our best for our kids. One thing we've heard consistently from parents about our "virtual or remote" environment is "We want R-P teachers teaching our kids." Well, while it won't be easy, we have figured out how to make that happen, while still honoring every request for either F2F (face-to-face) or virtual. If you want to learn the specifics, at the end of this message is a 14 minute YouTube video where I explain what will likely be happening for the 2nd semester. The video was created for us to use as a springboard for preparing for 2nd semester. It is relevant to each of you and your students as you prepare for the 2nd semester, beginning on January 25, 2021. If you don't want to watch the video, here is the "gist": Whether you choose F2F or Virtual, it will be with a Reeths-Puffer teacher. There are multiple ways to accomplish this, and they are spelled out in the video. IF you fell in love with Edmentum first semester and would be devastated to not have it, we have a limited number of licenses for 2nd semester. You would just need to let your child's building Principal know that. Because this is NEW information (R-P teachers teaching virtual), it is only fair to re-survey people to get their choice based upon this new information. Expect a survey to come out from your student's building Principal this week. I'm asking that you consider your choice and we need 100% of parents to complete the survey. At the deadline of the most recent survey, only 79% of people had made a choice. We can't make great decisions for kids and staff without accurate information. The survey will literally be one question; F2F or virtual for the 2nd semester. FOR SPECIFIC DETAILS- Please watch the video NEXT STEPS- 100% completion of 2nd semester survey Here is a link to the video:
https://youtu.be/co8nul9LHeI
Stay well, Rockets! Sincerely, Steve

Apply for meal benefits for your students at LunchApp.com. LunchApp.com will walk you through the process in just a few minutes. Your completed application will be sent to your school district so your children can receive benefits quickly and confidentially.

We are asking ALL Reeths-Puffer families to complete our lunch application at
https://www.lunchapp.com/
. It may not seem relevant, but significant district funding is tied to this. Please help by completing your application now! **Thank you**




Tomorrow is Wednesday! Meal pick-up continues every Wednesday at the high school, 9-11:00 am. While you are there, work out with the YMCA, 8:45 - 9:45 a.m., on the high school lawn next to the Roberts Road parking lot. All are welcome!

If you have been financially impacted by the pandemic, MidMichigan Community Action Relief & Recovery Services may be able to help! For assistance with housing, property taxes, utility bills, food & other critical needs, call 231-660-0271 .