The Reeths-Puffer hockey team's seven-game winning streak ended on Saturday, but not in the worst possible way.
The Rockets played to a 2-2 tie with Jenison on the road in non-conference action, leaving their season record at 17-5-1.
R-P took a 1-0 lead in the first period on a goal by Avery Wolfe-Sabo, who redirected a Jake Lee shot into the Jenison goal. The Rockets thought they had a second goal at the end of the period, but officials ruled that the horn has sounded before the puck went in the net.
Wolfe-Sabo scored again in the second period and the Rockets led 2-0 heading into the third.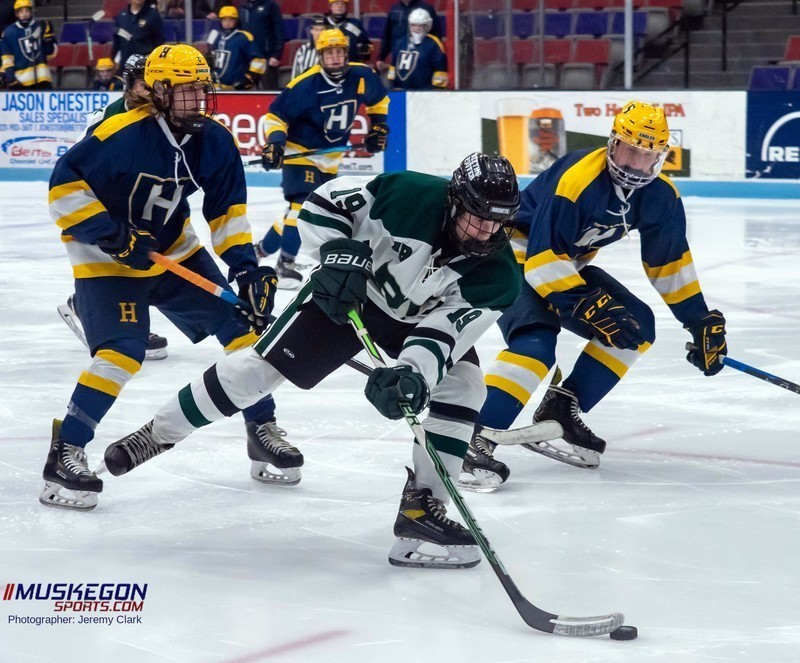 R-P's Avery Wolfe-Sabo, who scored both of the Rockets' goals on Saturday.
Jenison scored twice in the third period, with the equalizer coming late in the game when R-P was trying to kill off a five-minute major penalty and the Wildcats pulled their goalie to get a 5-on-3 skater advantage.
The eight-minute overtime period was scoreless and the game ended in a tie. The Rockets were outshot 47-25. R-P goalie Tanner Bonjernoor made 45 saves.
"We played one of our better games of the season," said Reeths-Puffer Coach Ryan Martin. "The last several weeks have been filled with opponents who are struggling this season, so we had to make sure that our compete level was up to par. We felt that it was.
"We played a strong game and held a two-goal lead going into the third. We are happy with our game. Obviously, we would have liked to win but it was a well fought game from both teams."
The Rockets, battling for the O-K Conference Fischer Division championship, will finish the regular season with two conference games – at home on Wednesday against East Kentwood and on the road on Feb. 17 against Grand Rapids Northview.