MUSKEGON — The basketball season has been one of ups and downs for the Reeths-Puffer boys squad.
Things had been looking up recently, with four wins in six games, paired with a couple of close losses to very good teams.
Unfortunately for the Rockets, a Friday matchup with the powerful Muskegon Big Reds brought a low.
The Rockets struggled to score all evening, eventually falling 69-34 at Muskegon's Redmond-Potter Gymnasium.
"I thought we played tentative tonight, at times," Rocket Coach Nate Aardema said. "We tried to beat the press with dribbling, that's what they (Muskegon) want. That's not what we're working on. They're really good. I don't think we represented how good we are tonight."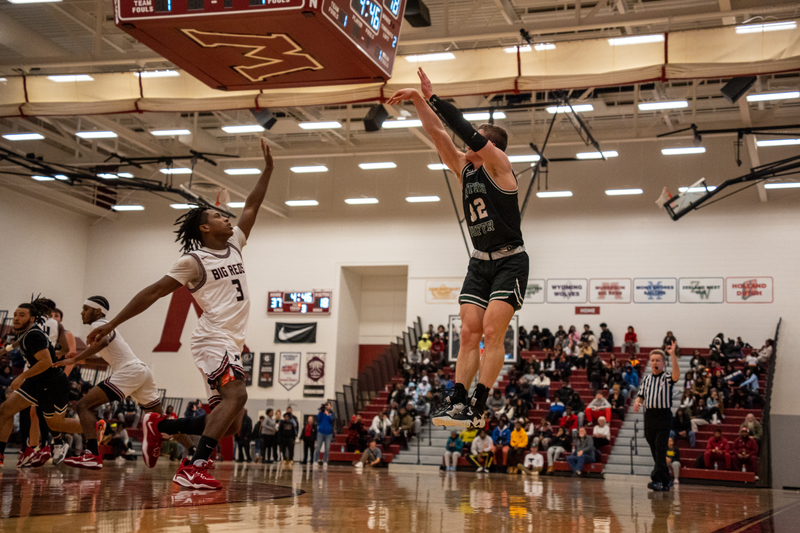 R-P's Kyle Schlaff unleashes a shot over a Muskegon player. Photo/Tyler Lirones
Aardema said his team, like many others who have played the unbeaten Big Reds, struggled to run their offensive effectively.
"They take the opposition, us included, out of what we want to do," he said. "They ran their stuff, we didn't run ours. We've got to be disciplined enough to be able to run our stuff against them. I'll say this - hardly anybody's been able to do it. Hardly anybody has been able to score a lot against them because they're a fantastic team."
Moving forward, Aardema said Reeths-Puffer needs to focus on playing the way it wants to play, not letting opponents dictate the game.
"We've got to be able to just play our game," the coach said. "We've got to be able to, regardless of the opponent, play the way we want to play. We're still working on getting there and tonight we certainly didn't."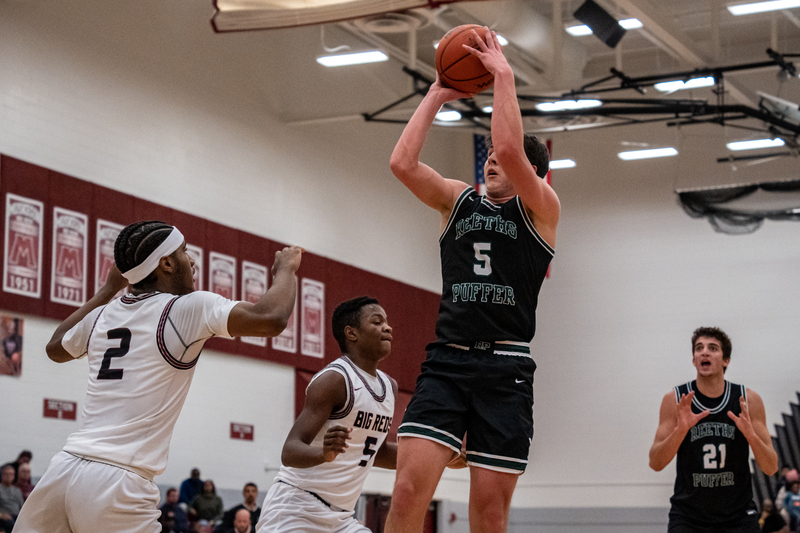 R-P's Jaxson Whitaker goes up for a shot. Photo/Tyler Lirones
Reeths-Puffer is now 7-7 on the season, including 4-4 in O-K Green conference play. Muskegon is 13-0 and 8-0 in the conference.
Muskegon led 15-8 after one quarter, including a 6-0 run to end the frame. The Big Reds extended the lead to 28-15 at halftime. Muskegon made seven threes in the first half.
Muskegon grew its lead to 52-26 after three quarters, then outscored the Rockets 17-8 in the final quarter.
Jaxson Whitaker led Reeths-Puffer with 13 points, followed by Tyviea Williams with seven. Travis Ambrose scored six for the Rockets and Antrel Jones tossed in four.
Muskegon was led by Anthony Sydnor III and Jordan Briggs with 18 points each. David Day III was in double-figures as well with 14 points.