MUSKEGON TOWNSHIP – There's an old saying in sports that says the best athletes have that "warrior spirit" within them.
These days the kids have changed that to say the "dog in them," but however you want to put it, the Reeths-Puffer girls basketball team displayed it on Friday night.
The Rockets trailed the visiting Muskegon Big Reds by 10 points with six minutes remaining in a showdown for first place in the O-K Green conference.
But R-P exploded down the stretch, ending the game with a 19-5 run to claim a thrilling 56-52 victory on its home court.
The Rockets won their eighth straight game and improved to 11-5 overall on the season. More importantly, they avenged an earlier loss to Muskegon and pulled into a first-place tie with the Big Reds in the conference standings with a 7-1 record.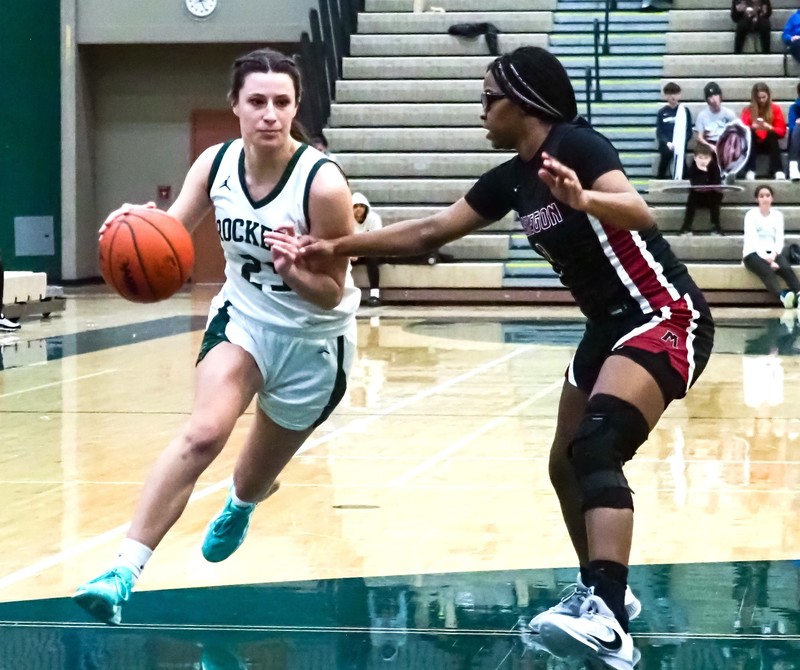 R-P's Sophia Hekkema tries to work the ball past a defender. Photo/Jeremy Clark
"This was huge," said R-P Coach Rodney Walker. "But we still have a whole lot of work to do. Now we're away at Zeeland East, Zeeland West and Union. Those won't be easy at all, so we have to make sure we're prepared."
Perhaps the biggest play of the game came from one of the shortest athletes on the court – R-P junior guard Brooklyn Torres – who hit a huge three-pointer with 2:20 remaining.
Torres originally grabbed an offensive rebound and backed the ball out to the three-point line before hitting the jump shot.
"It felt amazing," said Tornes about the shot that gave the Rockets a 51-49 lead, which they never surrendered. "I know we needed it and we needed this win. I just had to trust it and it went in. When you want to win, you have to have that dog in you."
Tornes' extra effort wasn't surprising to Coach Walker, who felt his team gave tremendous effort all night.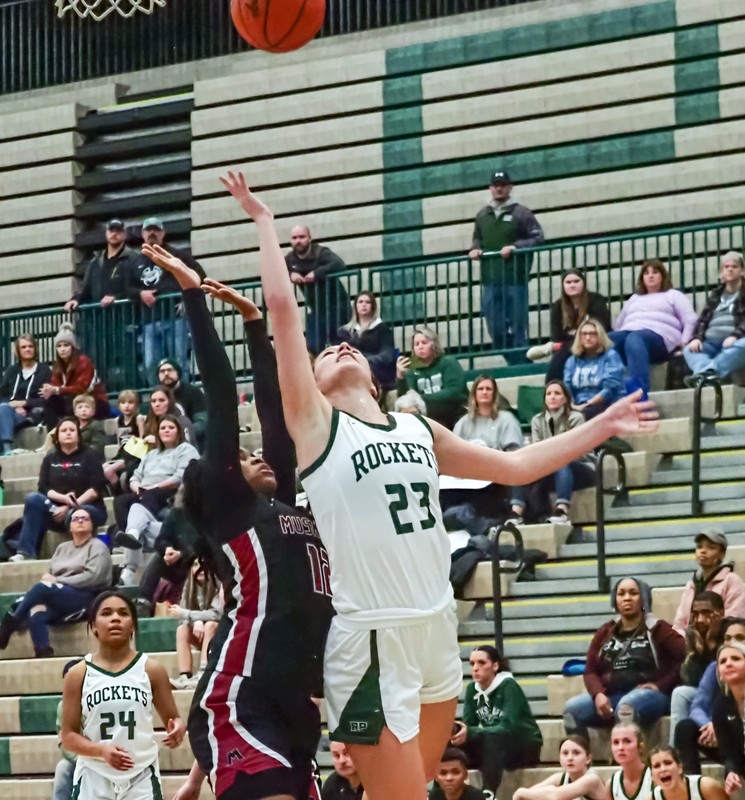 Hekkema battles for a rebound. Photo/Jeremy Clark
"That play describes the whole game, regarding how we played," he said. "We got to those 50-50 balls and usually Muskegon gets to those. I thought that's just how we played tonight."
The Rockets secured the win with tough defense down the stretch. In the final 2:20 they only allowed Muskegon to make one of five shots while knocking down five of eight free throws.
"We wanted to apply pressure on them," Coach Walker said about the defensive effort. "l thought we did a great job of forcing them a little bit. I thought we really did a good job of it, especially in the second half."
While Tornes hit the biggest bucket of the fourth quarter, it was senior Sophia Hekkema who continually knocked down the crucial free throws.
Hekkema scored 10 points in the final eight minutes, with eight coming from the charity stripe.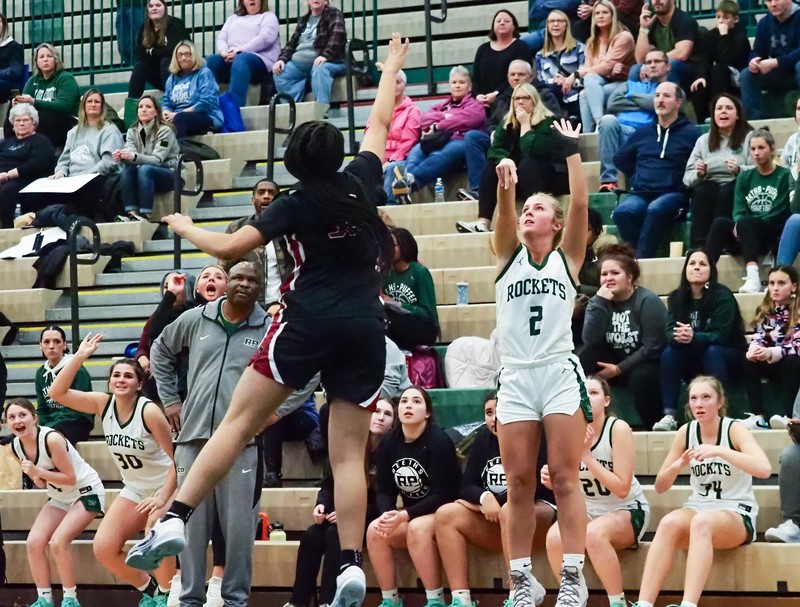 Reeths-Puffer's Megan Barmes launches a shot. Photo/Jeremy Clark
"That was amazing," Hekkema said. "That was the most fun I've had playing basketball in a while. That win was huge for us, and I know how much it meant to us. I was ecstatic."
Hekkema led all scorers with 20 points, with 10 in both the first and fourth quarters.
Reeths-Puffer led 11-10 after the opening eight minutes. Hekkema hit back-to-back triples in the first quarter for R-P.
Muskegon outscored Reeths-Puffer 15-10 in the second quarter to take a 25-21 halftime lead.
The third quarter didn't start well for the Rockets, who trailed 35-23 with 2:35 remaining, but they ended the quarter on a 7-1 run to cut the deficit to 36-30 heading into the fourth.
The fourth quarter started rough as well, and R-P trailed 47-37 with about six minutes left before they took over the game with the late 19-5 run.
Tornes finished with 16 points for R-P while Ariel Walker added 12. Ty'Veonna Davis scored 11 points for Muskegon.