MUSKEGON TOWNSHIP - For years, under former coach Matt Brink, the Reeths-Puffer wrestling team was a perennial conference champion.
Last season, under first-year coach Jared Fleming, the Rockets slipped just a bit, finishing in second place behind champion Holland in the O-K Green conference.
That didn't sit well with Fleming or his wrestlers, and they were determined to address the issue this season.
The Rockets took a big step in that direction on Wednesday, soundly beating Holland 40-23 in their final O-K Green dual match of the season.
The victory left R-P with a 6-1 conference record, the same as Holland and Zeeland East.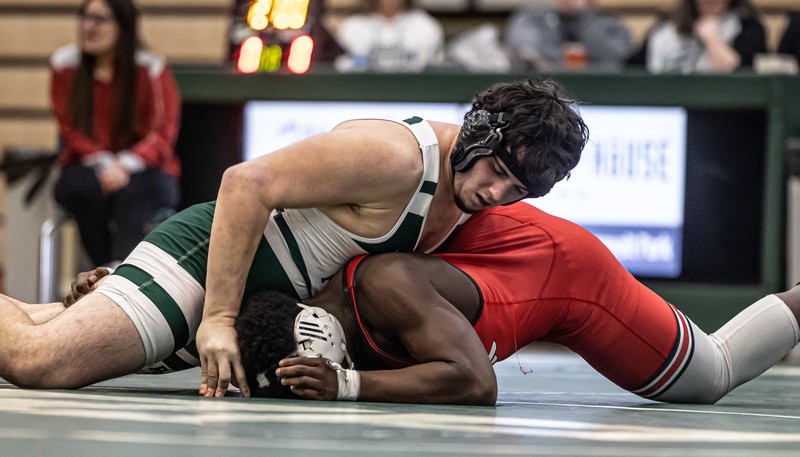 R-P's Nathan Straley works to gain an advantage over his opponent. Photo/Tonya Pardon
The outright championship will be decided on Saturday at the O-K Green conference tournament. The team that finishes the highest in the tournament – R-P, Holland or Zeeland East – will win the overall crown.
Whatever happens on Saturday, Fleming was excited about the way the Rockets wrestled on Wednesday and considered it a major step forward for the program.
"To be back up there and be in first place is exciting," said Fleming, whose team went on to beat Hudsonville Unity Christian later in the evening in a non-conference match. "That's where we want to be. Our guys wrestled really tough and we're really proud of them. It was just a great team win."
The Rockets won seven total matches and the Dutch won six, but R-P won six of its seven with pins, which are worth six points on the scoreboard, rather than the normal three.
R-P's Caden Huddleston (top), who ended up pinning his opponent. Photo/Tonya Pardon
Holland had no pins, and that made all the difference.
Collecting pins for R-P were Kaden Malotke (132 pounds), Nathan Reeves (150), Caden Huddleston (157), Omillion Wyrick (175), Nathan Stafford (285) and Jake Rozycki (113).
"The guys are working on being ruthless when our opponents are on their backs and are really looking to make them pay," Fleming said. "I am delighted to see our guys winning and winning by scoring bonus points. That's how successful teams do it. They win and win big."
Huddleston, a senior, has increased his pin count quite a bit since last season, and has become a strong force in the middle of the R-P lineup.
He led Holland's Gustavo Alanzo 2-0 after one period, then pinned him with 1:27 left in the second period.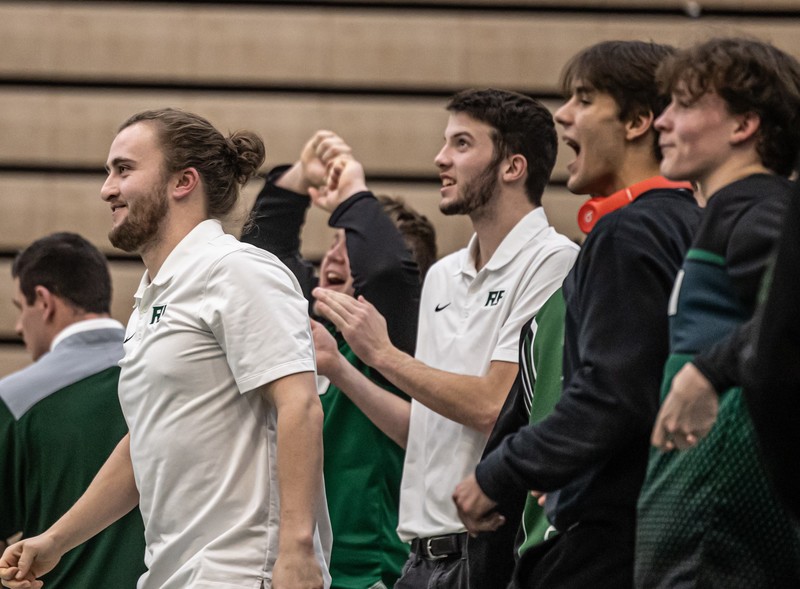 Coach Fleming (left) and the Rockets cheer a victory on the mat. Photo/Tonya Pardon
Huddleston said the Rockets came into the match feeling confident they could get even with Holland this time around.
"We lost to them last year, only by a few points, and we came back and got them this time," he said. "We've been working hard all season and we knew what we were capable of. We've been waiting for this one all year."
The Rockets got off to a great start, with Ian Cook getting a 13-5 major decision over Holland's Julian Segovia at 126 pounds and Malotke pinning Holland's Joel Morin in the second round of the 132-pound match.
Holland crept back with wins at 138 and 144 to cut R-P's lead to 10-7. Then the Rockets struck again when Nathan Reeves pinned Holland's Dylan DuBois in the second period and Huddleston got his pin, giving R-P a 22-7 edge.
The Rockets had to accept a forfeit at 165 pounds due to a Holland injury caused by an illegal move, then Wyrick pinned Holland's Andreas Valkema in the first round to make the score 28-13.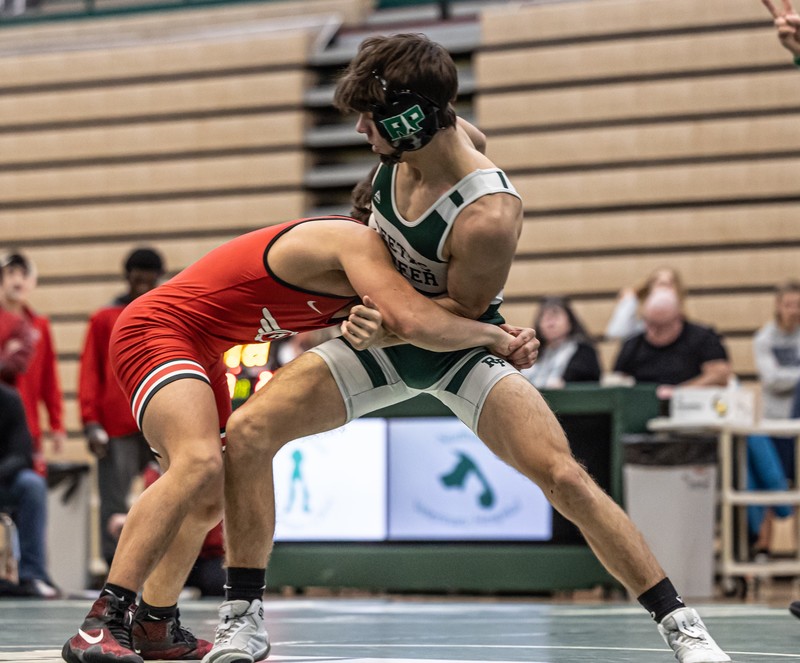 R-P's Kaden Malotke tries to avoid a takedown by his opponent. Photo/Tonya Pardon
Holland won at 190 pounds in a tough overtime match, then took another win at 215 to narrow the score to 28-19.
Stafford pinned Holland's Alessandro Fillmore in the second period at 285 pounds to put R-P up 34-19. The Rockets lost by major decision at 106 pounds, pulling the Dutch within 11 points with two matches left, so the visitors could have stolen the victory with two six-point pins.
Rozycki put an end to that possibility, however, pinning Holland's Kaydence Vesper in the second period to clinch the victory for R-P. A final match was cancelled due to a double forfeit.
Even the R-P wrestlers who did not win their matches put up very tough fights and avoided costly pins.
Nathan Straley (215) only lost 3-1 and Matt McConnell (190) lost 2-1 in a long overtime match.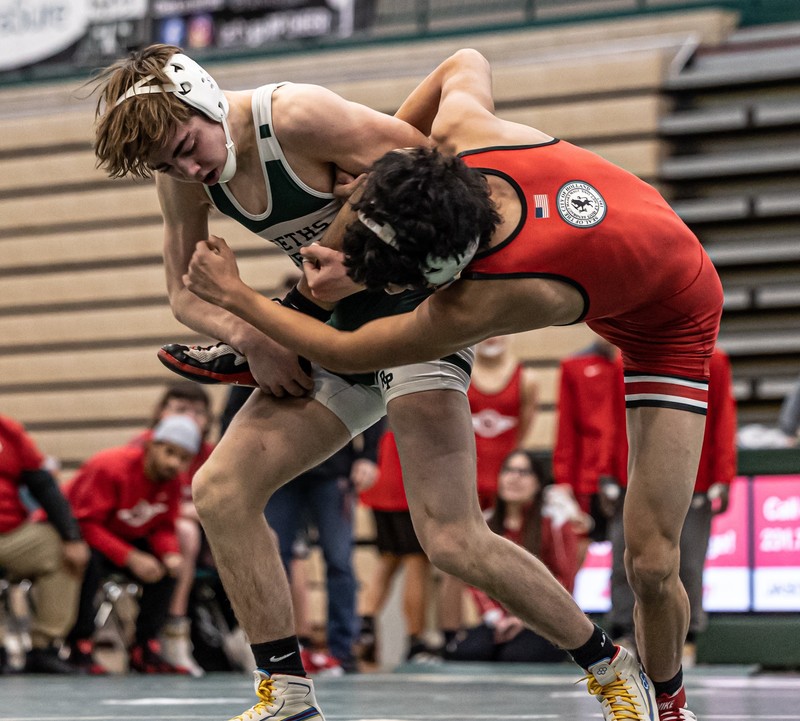 R-P's Ian Cook takes control by grabbing his opponent's leg. Photo/Tonya Pardon
Perhaps the biggest round of applause of the evening went to R-P 106-pounder Max Knowlton, a first-year wrestler who was filling in for an injured teammate.
Knowlton lost to Holland's Aiden Segovia 13-2. He seemed close to being pinned several times and had to take two injury time outs because his nose started bleeding badly and would not stop.
But he kept returning to the mat, battled through and avoided a pin, and was mobbed by his teammates when his match finally ended.
"That guy he wrested is like 27-8 this year, and Max didn't get pinned," Coach Fleming said. "He stepped in for us and really stepped up.
"All the guys who lost, they really won, because they didn't get pinned, so they saved bonus points for the team. We've been talking about that all year, how the little things all add up."