MUSKEGON - Sometimes a long break is not very welcome in sports, particularly when your team has been playing extremely well.
That was the case for the Reeths-Puffer hockey team, which came into Wednesday's contest with five straight wins and 9 victories in its last 10 games, but had not played since Jan. 21.
But the Rockets certainly did not look rusty in their 5-1 win over Holland West Ottawa in non-conference action at Muskegon's Trinity Health Arena.
Avery Freeland was the offensive star of the night with a pair of goals while Connor Stawski and Croix Klint each had two assists.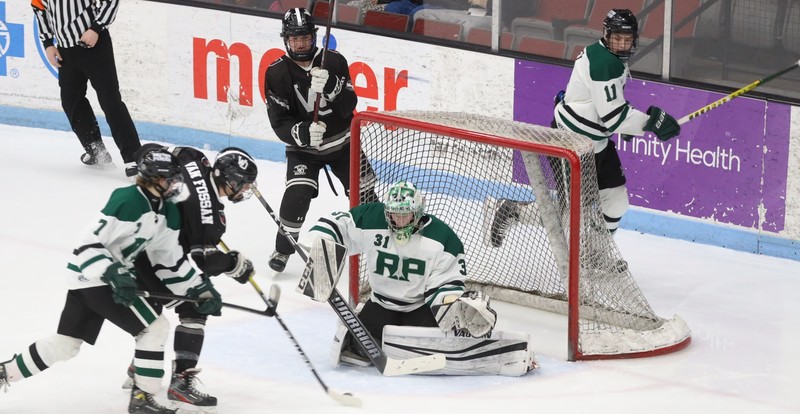 R-P goalie Isaiah Van Noord prepares to make one of his 49 saves. Photo/Joe Lane
R-P improved to 16-5 on the season.
"The long layoff killed our conditioning a bit, but this was a big win in front of a big crowd," said R-P Coach Ryan Martin.
Strong goaltending, always a specialty for the Rockets, really came in handy on Wednesday.
Reeths-Puffer was outshot by a wide 50-11 margin, but that was no problem for junior goalie Isaiah Van Noord, who turned away 49 shots and allowed his team to dominate.
"Obviously getting outshot the way we did isn't ideal, but we've said all along that we have full confidence in both of our goaltenders," Coach Martin said. "If we are keeping those shots to the outside and the areas near the blue line, they are going to make those saves all day."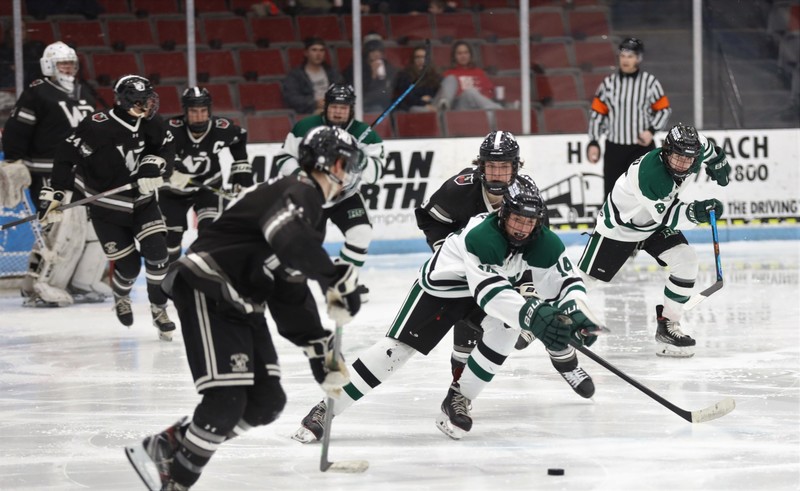 R-P's Vincent Pollock (14) stretches to try to get the puck. Photo/Joe Lane
West Ottawa had a 16-3 shot advantage in the first period but didn't score on any of its chances while the Rockets cashed in on all three of theirs.
R-P's Eli Cuti opened the scoring with a goal 34 seconds into the contest, with assists from Tyler Tindall and Connor Stawski.
Tindall added a goal 3:23 into the first period with an assist from Cuti.
R-P's Jaxon Stone capped off the opening period with a goal at the 7:24 mark, assisted by Stawski.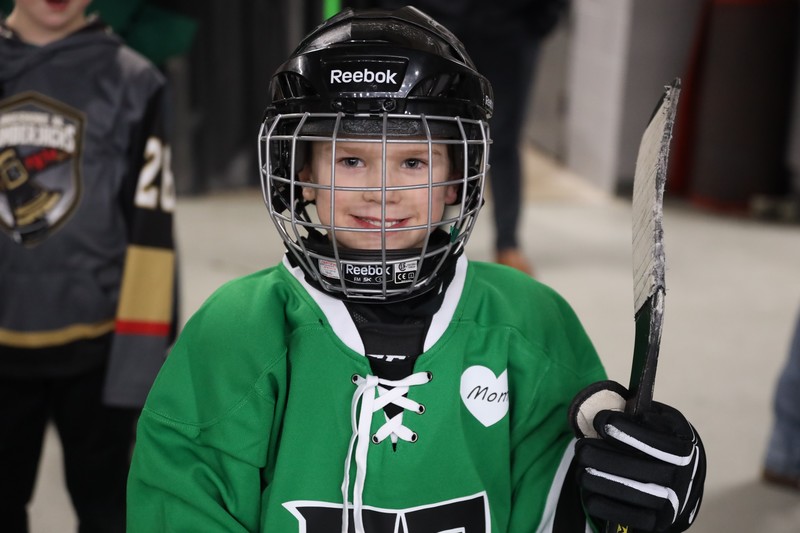 Youth league player Cole Langlois, 6, who was honored by the Rockets before the game.
The Rockets added to their lead 2:06 into the second period on a goal by Freeland, who was assisted by Klint.
The Panthers broke the shutout in the final minute of the second period with a goal by Charlie Moungkhoun. West Ottawa could have mounted a bigger comeback, but R-P killed off both Panther power plays in the second period.
Freeland scored his second goal of the contest at the 6:14 mark of the third period, with another assist from Klint.
"We continue to grow," Coach Martin said. "We are a young team, so we're excited about the future, but we're also excited about the present, so let's keep going!"