The red-hot Reeths-Puffer girls basketball team captured its seventh straight victory on Tuesday and appears more than ready for its Friday night conference showdown against Muskegon.
The Rockets traveled north and downed a very good Ludington squad 42-39 in a non-conference thriller.
The Rockets led 14-12 after one quarter, then survived a very rough second quarter, when they only scored two points. Luckily their defense clamped down and held the Orioles to four, and the game was tied 16-16 at halftime.
R-P had a 15-12 advantage in the third quarter to take a 31-28 lead into the fourth.
R-P's Sophia Hekkema, who led the team with 13 points on Tuesday. Photo/Joe Lane
The final quarter was close throughout. The game was tied 39-39 with 15 seconds left, then BillieTryska was fouled twice and sank three free throws in the final moments to seal up the win.
"BillieTryska played big down the stretch," said R-P head coach Rodney Walker, whose team is now 10-5 on the season.
Sophia Hekkema led the R-P attack with 13 points and Brooklynn Tornes scored 10. Megan Barmes added six points with two triples, Tryska finished with five points while Ashlynn Anderson and Irelyn Niklasch each scored four.
Anderson, Niklasch and Hekkema had seven, five and four rebounds, respectively. Hekkema had four steals and Tryska added three.
"Our role players really stepped up tonight," Coach Walker said. "It was a total team win."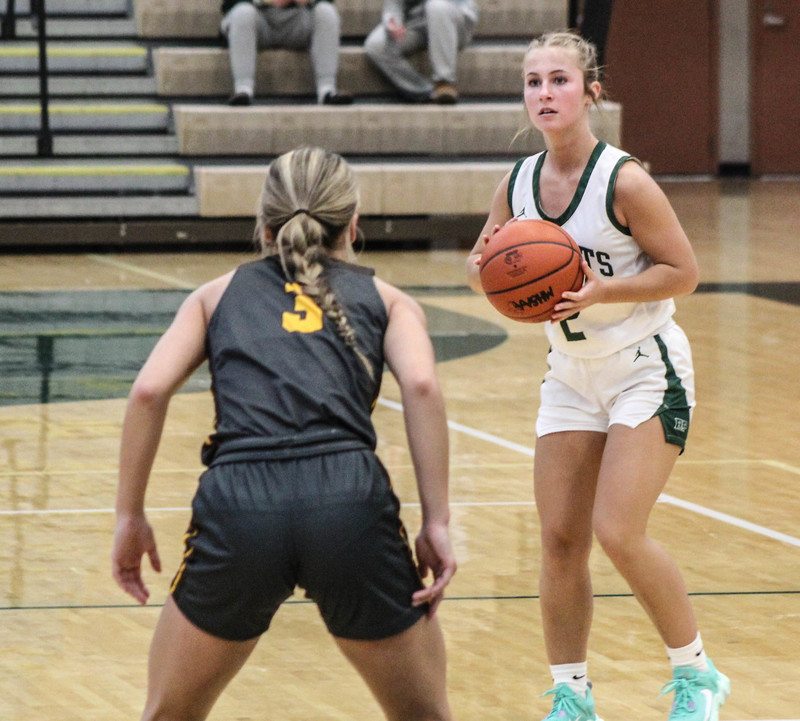 R-P's Megan Barmes, who had two 3-pointers on Tuesday. Photo/Joe Lane
The Rockets pulled out the victory without the services of their leading scorer, Ariel Walker, who injured her ankle in last Friday's game, but is expected to be back at full strength this Friday.
'It was a pretty bad sprain, so we decided not to play her tonight because of the big game on Friday," Coach Walker said. "We wanted to make sure her ankle will be 100 percent. I think she will be at full strength. She already has a lot of mobility back."
Reeths-Puffer, the second-place team in the O-K Green conference with a 6-1 mark, will host first-place Muskegon on Friday in a key league battle. Muskegon beat R-P the first time the teams met this season, but the Rockets have not lost since.
"I think we are feeling a lot more confident," Walker said about his team. "All of the girls have been stepping up, and that's a huge sign for us, with everyone involved and making plays.
"We will have to do a good job defensively (against the Big Reds). They have a lot of players who can put the ball in the basket. Our biggest goal will be to limit what they do in transition and try to force them into more of a half-court game. Of course, that's easier said than done."