The Reeths-Puffer girls basketball team is on a big-time roll, just on time for the second half of the O-K Green conference season.
The Rockets concluded the first part of their conference schedule with a convincing 65-41 road victory over Holland on Friday night.
Reeths-Puffer is now 9-5 overall and 6-1 in the O-K Green.
The victory was the sixth straight for the Rockets, all coming in conference games. The Rockets' last loss was on Jan. 6 against Muskegon.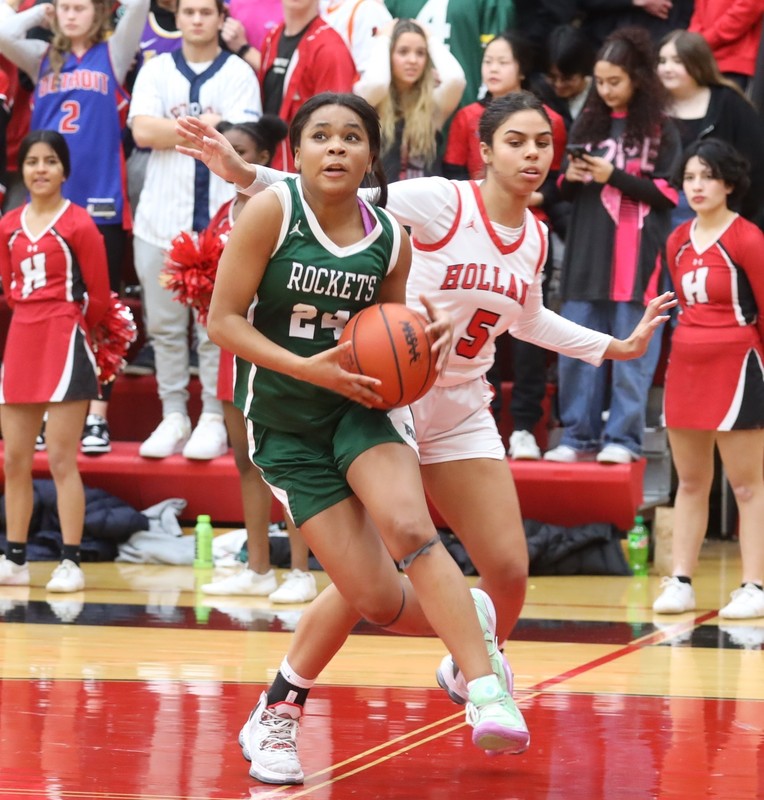 R-P's Ariel Walker, who scored 21 points on Friday night. Photo/Joe Lane
The Rockets will kick off the second half of the conference season by hosting the Big Reds in what they hope will be a revenge game on Feb. 3. A victory would put the two team in a tie for first place in the O-K Green.
The Rockets gained the advantage early against Holland, outscoring the Dutch 15-9 in the first quarter. The teams each scored 12 points in the second quarter and R-P led 27-21 at halftime.
Both teams displayed a lot of offense and scored 18 points apiece in the third quarter, but Reeths-Puffer pulled away with a huge 20-2 advantage in the fourth.
Ariel Walker led R-P with 21 points, Sophia Hekkema added 13 and Brooklynn Tornes tossed in eight.
Ashlynn Anderson and Billie Tryska contributed seven and six points to the victory, respectively.
Anderson and Tornes each grabbed nine rebounds while Irelyn Niklasch snagged six.