HOLLAND - A strong defensive effort and a balanced scoring attack helped propel the Reeths-Puffer boys basketball team to a road win on Friday night.
The Rockets took a double-digit lead less than five minutes into the game and held it the rest of the way en route to a 64-34 O-K Green conference victory over Holland.
"I thought our defense set the tone early," said Reeths-Puffer head coach Nate Aardema. "The energy and effort on that end were impactful and huge for us."
Reeths-Puffer got contributions up and down the roster on both ends of the floor. Nine players scored, including three in double figures -Travis Ambrose, Jaxson Whitaker and Tayte Vanderleest.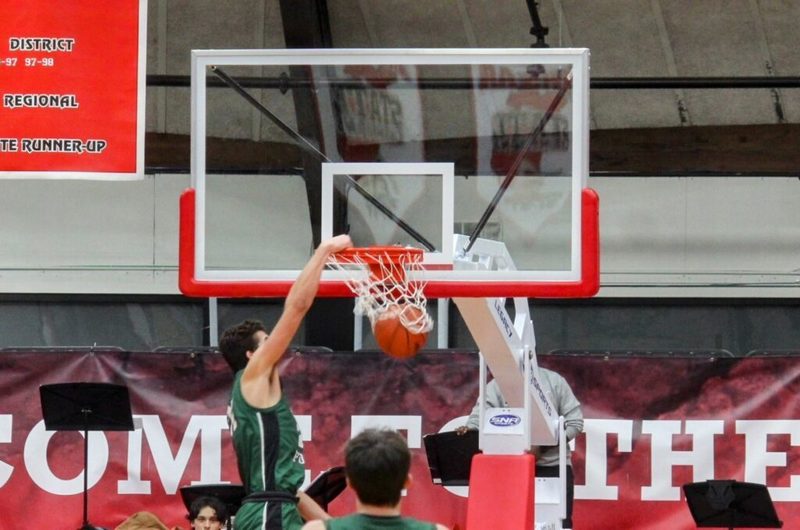 R-P's Travis Ambrose dunks the ball against Holland. Photo/Mitchell Boatman
"Everybody being a threat is big for us for sure," Aardema said of the balanced attack. "Tayte hit, I think, his first three of the season and it gave him some confidence. His energy was great on the glass, too. EJ Jones played incredible defense and Kyle Schlaff played great defense.
"We had great effort out of a lot of guys tonight, balanced scoring with a lot of guys contributing on the other end as well."
The Rockets are facing a quick turnaround for a 3 p.m. game against Detroit Catholic Central in the 2K23 Showcase in Grand Rapids on Saturday, so the big lead allowed R-P's starters to get some needed rest late in the game.
"There's always going to be bumps and bruises, but I think we saved eight minutes or so for quite a few guys," Aardema said. "It was good to get some guys some rest and get some other guys more minutes there in the fourth."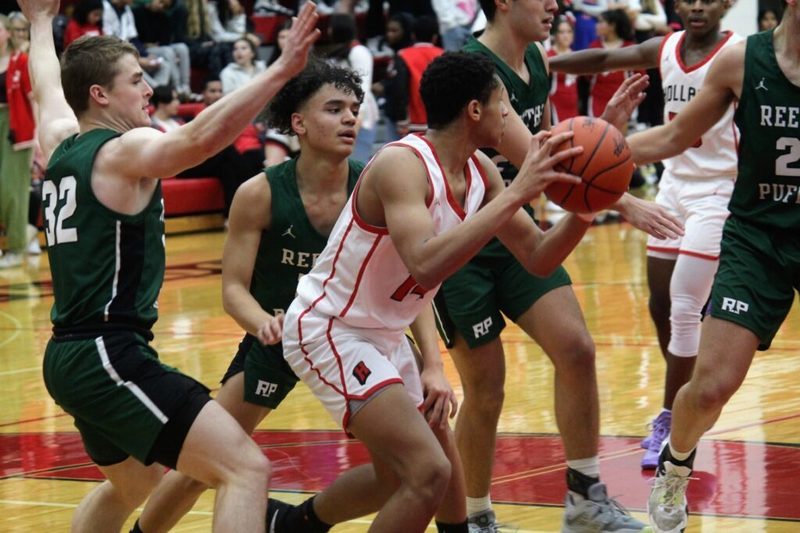 Reeths-Puffer's Kyle Schlaff (32) and Ernest Jones (12) defend against a Holland player. Photo/Mitchell Boatman
The Rockets have now won four of their last five games to improve to 7-5 overall and 4-3 in the O-K Green conference.
"It's a process throughout the season," Aardema said. "I think we're figuring out what might be best for us and we're working into that. We're seeing some successes with it. I think we're getting a little more grit to us as well, which has been really good."
Reeths-Puffer blasted out to a quick 16-0 lead, which included nine points from Whitaker. Holland never got closer than 11 points the rest of the game. The Rockets led 22-5 at the end of the first quarter.
The second quarter was more even, with Holland grabbing a 12-10 edge to cut the lead to 32-17 at halftime.
Reeths-Puffer extended the lead to 45-25 after three quarters before using a 19-9 edge in the fourth to seal up the victory.
Ambrose led Reeths-Puffer with 16 points, followed by Whitaker with 12 and Vanderleest with 11 points and seven rebounds.
Antrel Jones added eight points and eight rebounds and Tyviea Williams had six points for R-P.