Liam Smith is not a football player, but he's starting to understand how running backs feel.
That's because Smith has been knocked to the ground – sometimes literally tackled – an awful lot this season.
That's not surprising, because the Reeths-Puffer junior is widely considered one of the most talented offensive soccer players in West Michigan, if not the entire state.
Smith had a breakout season last year as a sophomore, scoring 27 goals, earning honorable mention All-State honors and helping the Rockets shock the field and win the O-K Green conference tournament.
This year he's still been scoring a lot – 19 goals and 11 assists through 15 games – but he's had to work extra hard to get them.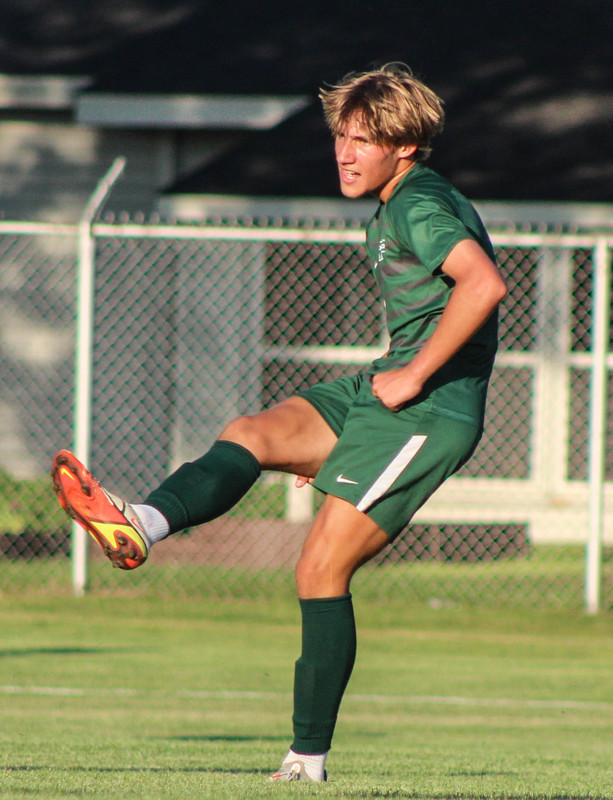 R-P's Liam Smith, who has 19 goals and 11 assists this season, despite drawing heavy and sometimes physical defensive coverage.
One reason is that a lot of frustrated defenders, who can't keep up with his amazing ball-handling skills, take the easy way out and simply take him out.
The extra physical defense has cut into his goal total a bit this season, and Smith admits it's been frustrating at times, but he also says it's part of soccer.
"It's happened more this season," he said about being tackled. "They're definitely out to get me. It's part of the game. No, they shouldn't do it, but it's a strategy. When you have a guy on the ball and he's going to the net, part of the strategy is to take him out.
"I've been getting used to it. and it's usually a motivational booster."
Even when he's not going knocked to the ground, Smith is usually double-teamed by opposing defenses, which adds an extra layer of challenge to his goal-scoring efforts. But the way he looks at it, double teams and extra physical defenders present an opportunity for growth.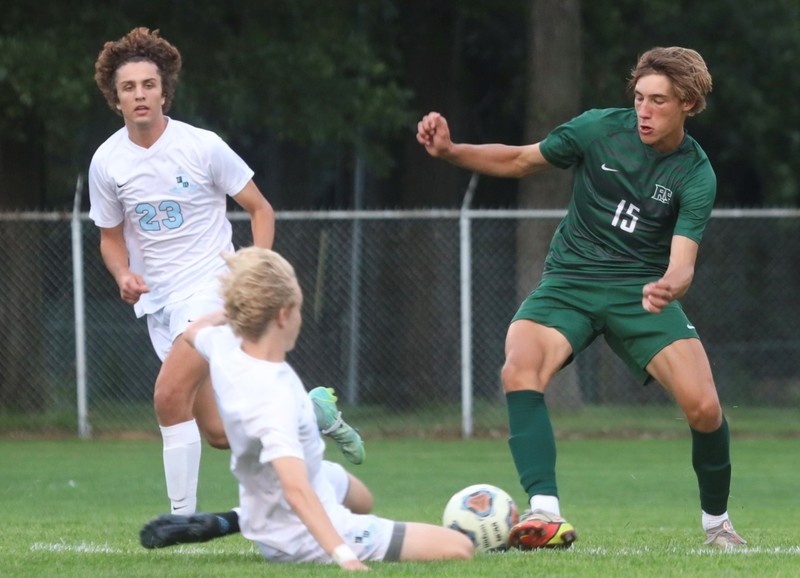 Smith works the ball past a diving defender. Photo/Joe Lane
If he can deal with all of that and still score a lot, he's definitely improving.
"It's a chance for huge growth," he said. "Getting double-teamed doubles the challenge, and it's fun. It's like a game within the game, trying to figure out those challenges, and when you do score it feels good."
A midseason position switch has given Smith a little more room to operate.
Instead of playing striker, a front-and-center offensive position, he's now the box-to-box midfielder, where he has offensive and defensive responsibilities. He has more to do on the field, but it allows him to escape the extra defensive coverage more often than when he played up front.
"It gets him away from all the double-teaming and man-marking," said R-P Coach Kody Harrell, who added that Smith is not only the most skilled player in the area, but one of the smartest. "It allows him to read the game. We tell him to just run with it, based on what the other team is doing to him."
Smith says he likes his new position very much.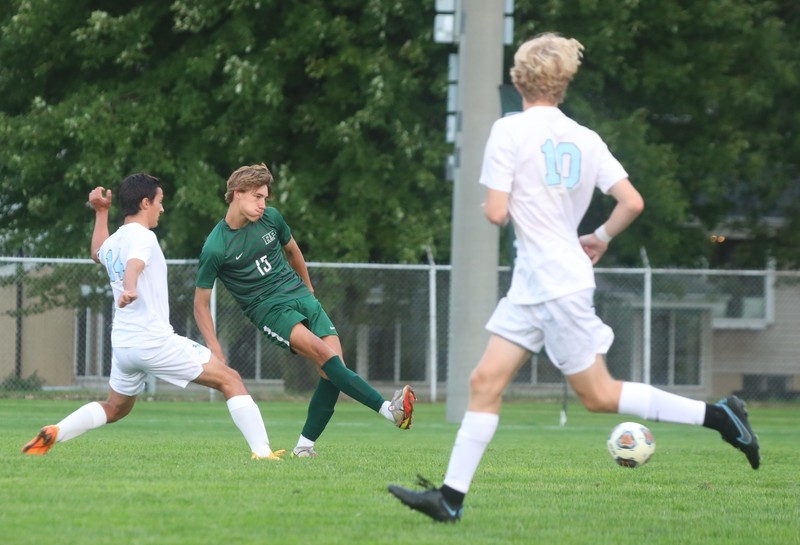 Smith passes the ball as a defender approaches to cut him off. Photo/Joe Lane
"I can go everywhere and do everything," he said. "It's opened up so many more opportunities. When I was a striker I might have gotten four shots a game, and now I'm getting like 10 shots a game. I also get to create a lot more opportunities for my teammates and get more assists."
Smith draws so much attention from terrified defenders because his ball-handling skills are off the charts, particularly for a high school player.
Rocket fans have watched in amazement, so many times, as Smith has approached a group of defenders, zig-zagged and ball-handled between them, and emerged on the other side with the ball, leaving the opponents scratching their heads.
He says he's always been a natural goal scorer, all the way back to his earliest years of youth soccer, but he also credits his father for helping him develop his ball-handling skills.
His dad, Nate Smith, is a former R-P soccer player (Class of '96) who coached Liam's teams when he was young.
"I definitely give credit to my dad," he said. "He coached me through my early years and we were always doing foot drills. He would put cones out and we would do countless hours of foot drills. My dad always said, you want your feet to feel like hands. You want to be totally comfortable with your feet.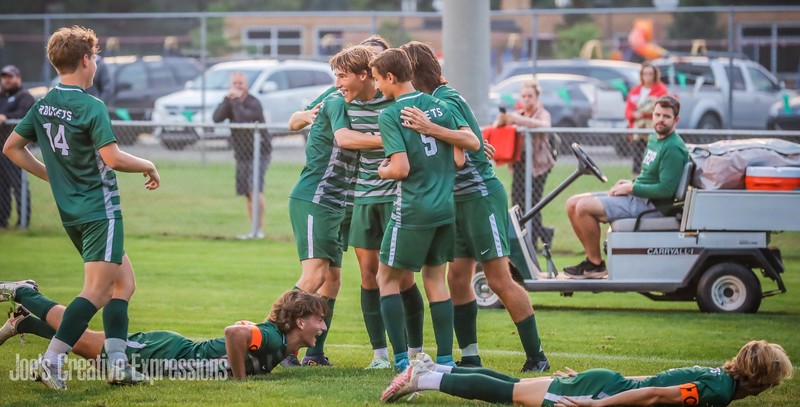 Smith, center, celebrates with his teammates after scoring a goal against Mona Shores. Photo/Joe Lane
"It started out just me and him when I was small, then when he started coaching my teams we did the drills with all the boys."
Smith is currently closing in on two Reeths-Puffer career offensive records, for goal scoring and assists.
The career goal record is 76 and Smith currently has 52. The career assist record is 37 and Smith currently has 25. With another varsity season ahead of him, those marks should be easily attainable.
Smith said he just learned this week that's he's nearing both records - not just the goal scoring mark - and he likes that a lot.
"That's exciting, too," he said about the assist record. "If I could get both that would be sweet. It would show that I was not just a scorer, but that I could create opportunities, too."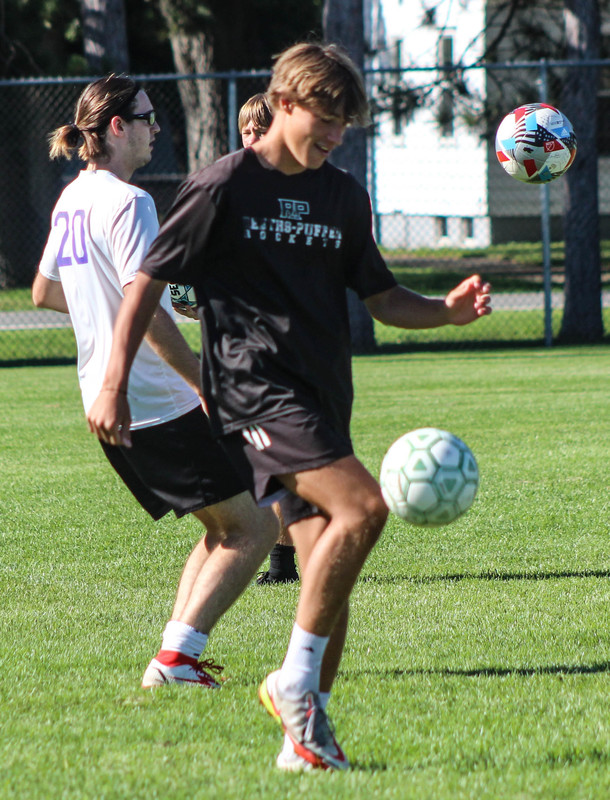 Smith practices his ball-handling skills during a team practice.
While the individual accomplishments are great, Smith is very much a team player who wants to win, and the Rockets have not done that as much as they hoped to this year.
After starting the season with big ambitions to win the very tough O-K Green conference, Reeths-Puffer has turned in a 6-7-2 overall record, which nobody on the team expected.
The good news is that the Rockets are still loaded with talent and have the conference tournament and state tournament ahead of them.
Any coach will tell you that an underachieving team with so much skill can rise up and do a lot of damage at tournament time.
The final stretch begins on Tuesday, when R-P will visit a strong Zeeland East squad in the first round of the conference tournament.
"We had high expectations, but seasons like this happen," Smith said. "I think we overhyped ourselves a bit too much and got too comfortable thinking we were the best.
"Going forward, we're just going to have fun. Our first goal is to win the conference tournament again and try to beat some teams we lost to, starting with Zeeland East. The goal of winning districts is still there, too, and is still very doable."