Several Reeths-Puffer cross country runners had good days on Thursday at the O-K Green Conference Jamboree at Riverside Park.
Jaxon Allen finished ninth overall in the race with a time of 16:54.45. That was nine seconds faster than his time on the same course last year.
Kye Grant (17:40.13) and Tate Bradley (17:40.21) ran shoulder-to-shoulder and finished 18th and 19th, respectively.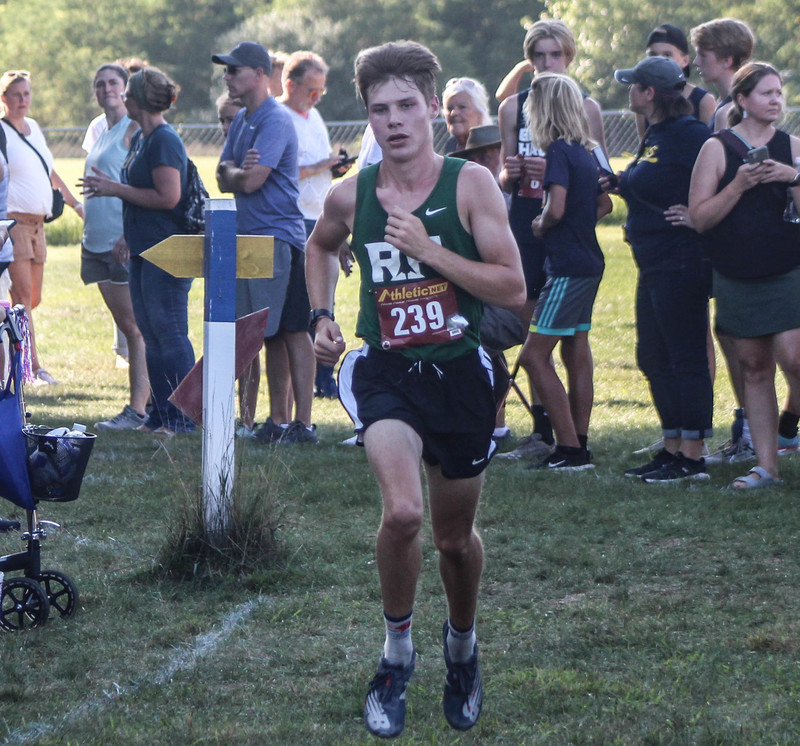 Reeths-Puffer's Jaxon Allen, who finished in ninth place in the O-K Green conference meet.
Jack Yonkman finished 34th with a time of 18:35.31 and Dylan Sturr was 66th with a time of 20:58.63.
The Rockets finished in fifth place as a team with 114 points. Zeeland West took first with 31 points.
"Finishing fifth in the conference meet is not where we want to be as a program, but we are still missing upperclassmen Jamie Neel, Gage Bouwman and Daniel Dunn due to some nagging injuries," said R-P Coach Darin Grant. "Sitting them out is hard, but in doing that I am hoping for their return during the championship season."
The R-P girls team also finished in fifth place at the meet with 145 points. Zeeland East won with 38.
Freshman Jersi Bilek was the top Rocket runner, finishing 26th with a time of 21:41.54. Eva Shinabery was 33rd (22:12.35), Adrienne Fluette was 36th (22:16.24), Ella Knapp took 40th (22:26.22) and Alison Jakobi finished 46th (22:54.20).