When all the Reeths-Puffer alumni converge on Rocket Stadium on Friday night for the Homecoming game against Zeeland East, there's sure to be a buzz in the air.
That's because the R-P faithful have been hungry for a good football team for quite some time, and now they have one.
The Rockets are 4-1 following last week's decisive 55-7 victory on the road over Wyoming. That's the best start for R-P football since 2013, the last time the team qualified for the state playoffs.
Head coach Cody Kater knows that's something to be proud of, and he hopes his players feel good about their accomplishment.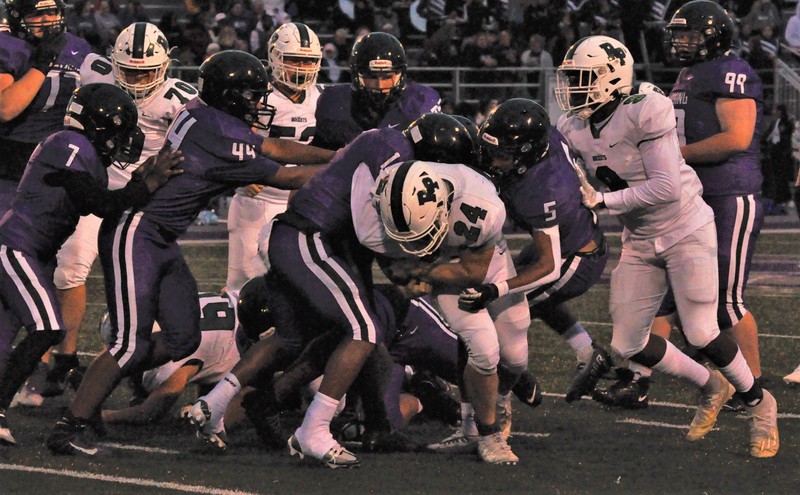 R-P's Brody Johnson tries to fight through several Wyoming tacklers last Friday.
"I would say the boys should be proud," Kater said. "That's one thing that's been missing around here, just a sense of pride. As an educator and a coach, I want my boys to be proud of the effort they put in throughout the week and the product they put out there on Friday nights.
"It's exciting. We're starting to see the culture shift a bit, and we can see that the hard work is leading to pride."
That being said, the team's push for excellence is far from over, and that begins in practice.
Kater said the Rockets have yet to have the kind of practice week that he would like to see, and that remains a goal going forward.
"No," Kater said, when asked if the team has had a good week of practice leading up to the Homecoming game. "We're piggybacking off a victory and we haven't done our best job throughout the week. We're still searching for that best practice and best week. We haven't had a full week of great practices with great energy yet.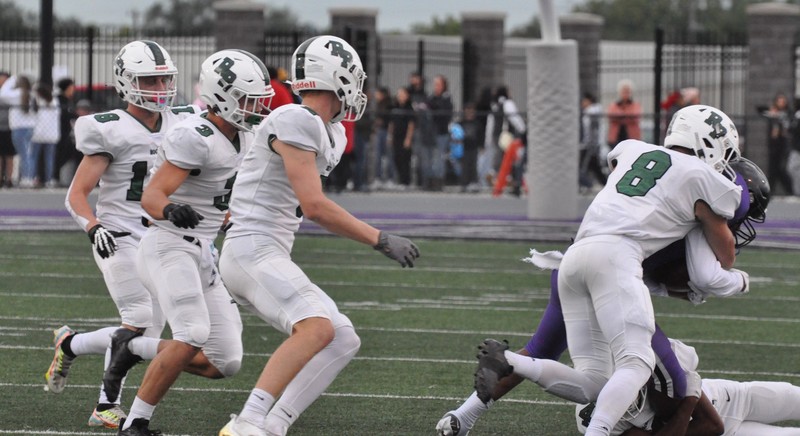 Caiden Bolduc (8), the area's leading tackler, finishes off a Wyoming ball carrier.
"We are obviously critical as coaches, but we want to make sure the kids understand that, while there is no such thing as reaching perfection, the pursuit of it is something we want to stay focused on."
In some ways the win over Wyoming – R-P's easiest victory this season by far – might have kept the Rockets from practicing the way they should, according to Kater.
"I do think there's a feeling of entitlement after a victory like that," he said. "But we've been trying to be R-P vs. R-P every single day, and we're diving into some of our weaknesses and trying to turn them into strengths."
Reeths-Puffer displayed the look and confidence of a very good team last week, handling Wyoming in dominant fashion.
The biggest star of the evening was running back Brody Johnson, who rushed for 190 yards and four touchdowns.
R-P's Brady Ross carries the ball with Brody Johnson leading the way.
Quarterback Brady Ross completed 6 of 14 passes for 52 yards and one touchdown. Caiden Bolduc led the defense with nine tackles, Tyviea Williams added six and Brooks Johnson had five.
A lot of observers are expecting the same type of performance against Zeeland East, another struggling opponent that comes in with a 1-4 record.
The Chix' one victory, for the record, was a 2-0 forfeit win over Holland last week, which happened because the Dutch have cancelled the rest of their season.
Zeeland East has not played since losing 41-19 to Muskegon two weeks ago.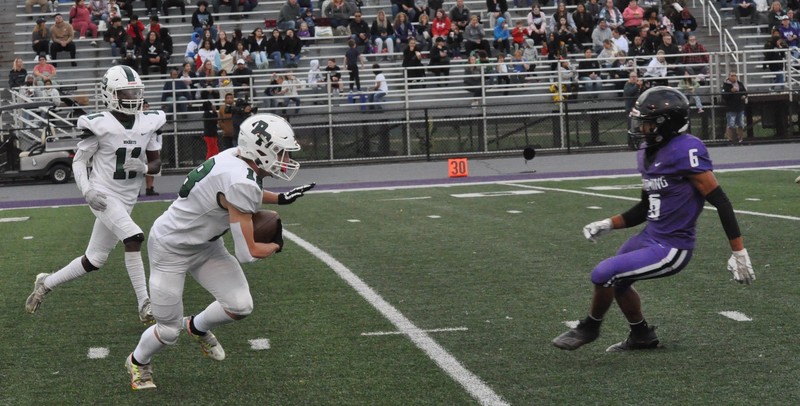 A Rocket ball-carrier puts the moves on a Wyoming defender.
It might be easy for the Rockets to look past Friday's game a bit, with major challenges coming up the next two weeks against O-K Green powers Zeeland West and Mona Shores, but Kater says that won't happen.
Friday's game is an O-K Green contest, and the Rockets remain in the league championship race with only one loss.
"We know how big this game is and what the implications of this game are," Kater said. "We're doing our best to keep that R-P vs. R-P mindset. That's been our main focus in practice all week.
"We're going to go out there and take it quarter by quarter this week and try to play the cleanest football we've play so far."