The Reeths-Puffer tennis team's present and future were proudly on display at Wednesday's Greater Muskegon Athletic Association Tournament at Mona Shores High School.
The present was well-represented by senior team captains Zade Rogers and Jake VandenBosch, who posted three victories and captured the tournament championship in the No. 1 doubles flight.
Meanwhile freshman Ethan Frang, one of several very promising underclassmen on the team, also went 3-0 and captured the tournament title in the No. 4 singles flight.
Reeths-Puffer's No. 3 doubles team of Adam Miller and Holden Earnest also did very well, advancing to the championship round before falling to a Mona Shores team in a tie-breaker.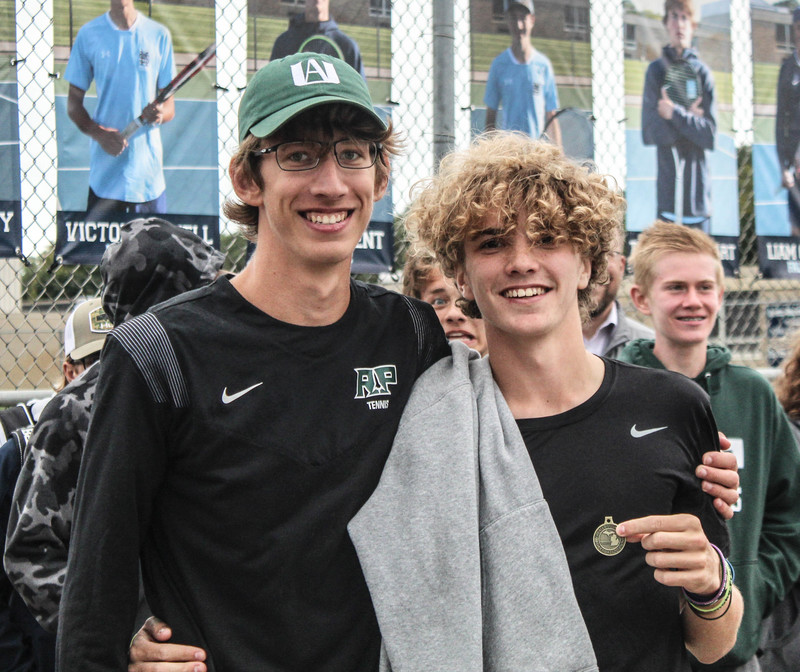 R-P seniors Jake VandenBosch and Zade Rogers pose after accepting their medals.
The two flight championships and the near miss were a huge step forward for the Rockets, who had not captured a flight title at the local tournament in a long time, according to Coach Ryan Hankinson.
Reeths-Puffer also did very well in the final team standings, tying perennial power Whitehall for second place with 15 points. Mona Shores won the team competition with 20 points.
"Last year we finished fifth and it was a disappointment, so this is really exciting," Hankinson said. "Getting three out of eight flights in the finals and winning two of them was great. Just to see the improvement, that's the biggest thing. It's exciting when you see the kids light up and figure the game out."
Rogers and VandenBosch continued the hot streak they've been on since becoming doubles partners at midseason.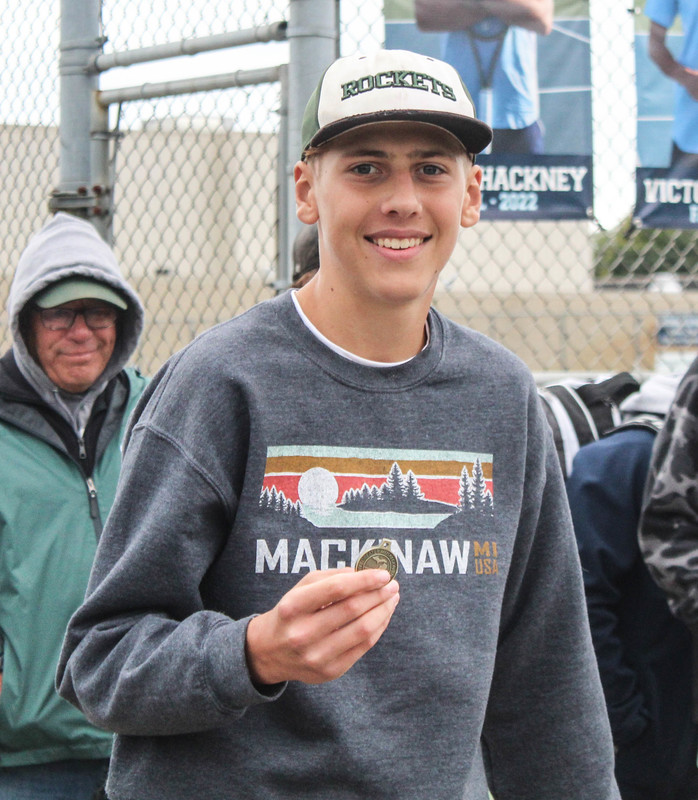 Ethan Frang shows off his No. 4 singles championship medal.
They defeated Western Michigan Christian's Derek VanderWall and Jonas Dutton 6-0, 6-1 in the first round and North Muskegon Grayson Hinton and Gus West 6-2, 6-4 in the semifinals.
That set up a rematch in the championship round against Whitehall's Sam Cole and Isaac VanAmBerg, a duo they had beaten once earlier this season.
Rogers and VandenBosch took the first set 6-4, then battled through a very tough second set and won 7-6 in a tiebreaker to clinch the championship.
The two seniors, now 16-1 on the season, are four-year varsity players who had never won a GMAA title before.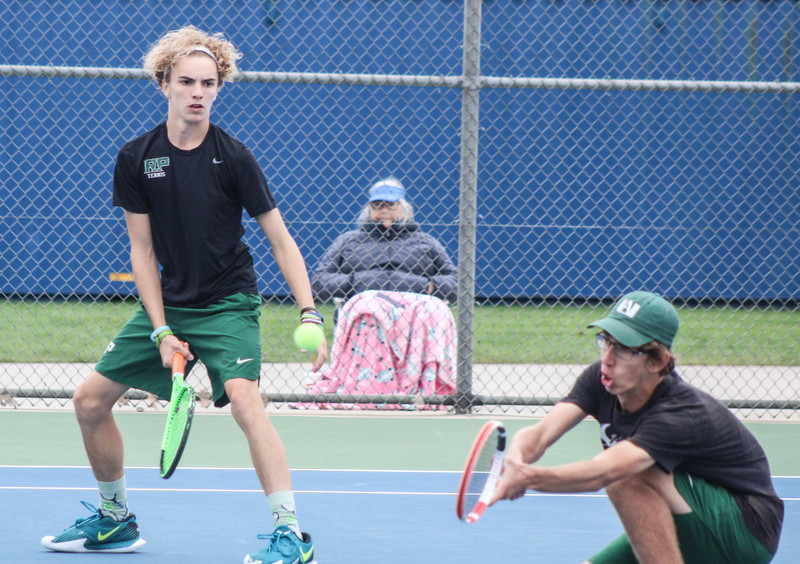 VandenBosch goes low to return a shot as Rogers watches.

"I was very nervous," VandenBosch admitted, when asked about the back-and-forth second set in the title match. "All we could do was keep the energy up."
The R-P partners kept making big shots in the match when they really needed them, and Rogers said that made a big difference.
"Tennis is a very mental game, and having those shots really helped us keep the momentum going," he said.
Frang won the first of what he hopes will be several GMAA titles before he's through.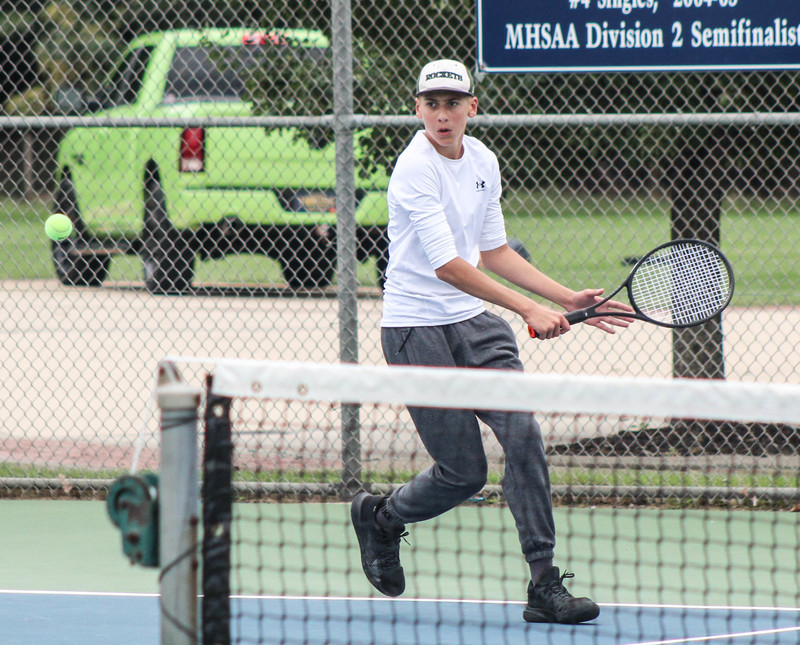 Frang gets ready to return a shot in his championship match.
The Rocket freshman started his day by dispatching Fruitport's Shane Brosnan 6-0, 6-0, then defeated WMC's Daniel Moorhead 6-4, 6-0.
Frang faced Mona Shores' Drew Nielsen in the finals and had to battle for the victory, winning the first set 6-4, losing the second 2-6, then winning the tiebreaker 10-5.
"A little bit and a little bit not," Frang said, when asked if he was surprised to win a title as a ninth-grader. "In the second set it got a little bit tough, then I just kind of thought about what I did in the first set."