JT Fansler takes a great deal of pride in keeping the ball out of the Reeths-Puffer soccer team's goal.
He will do whatever it takes to achieve that objective, which he demonstrated in dramatic fashion last week when the Rockets were playing powerful Mona Shores.
Fansler took it upon himself to guard an empty Rocket net twice in the second half, when goalie Gage Hopkins wandered out from the box to challenge Mona Shores attackers.
The first time it happened, Fansler stood and waited for a long, hard shot to arrive, then leaped and deflected the ball with a header and prevented a Sailor goal.
"It was a little bit above me, but I think I'm pretty good in the air, and I work on headers all the time," Fansler said.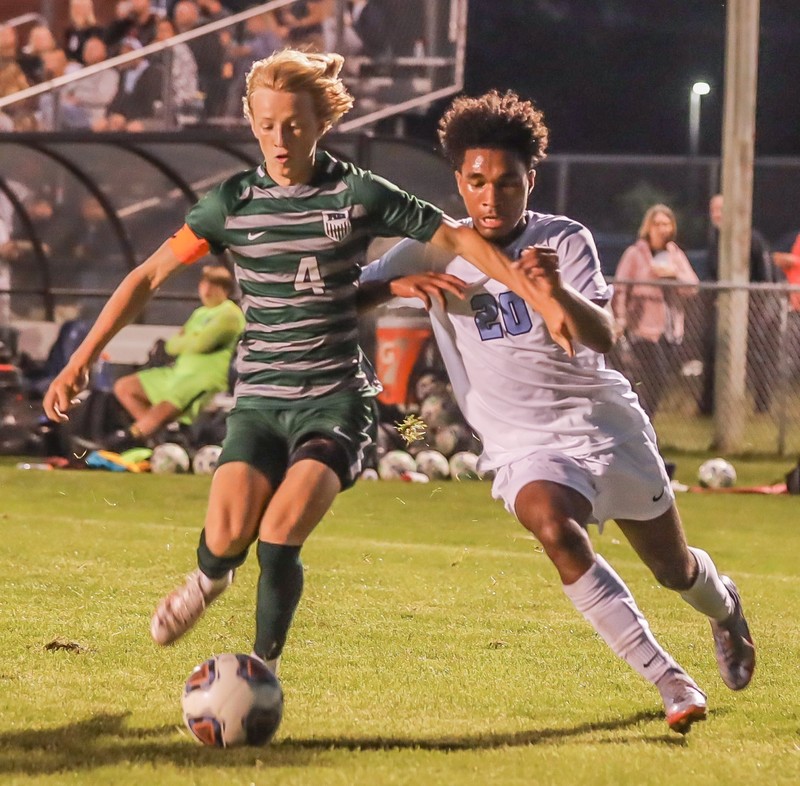 Fansler controls the ball while fighting off a Mona Shores player. Photo/Joe Lane
The second save was even more spectacular, when Fansler dove to make a dramatic stop of a close-range shot that was headed for the empty net.
"I was chasing down their striker, he played it across, and I had so much adrenaline going that I just decided to go for it, and I got to it," he said.
Reeths-Puffer soccer coach Kody Harrell was one of many witnesses who were stunned by the saves.
"My eyes got really big," Harrell said. "On the first one, I saw he was already on the goal line, then when I saw he saved it with his head, I was really impressed. On the play where he came sliding in, the Shores player was literally within six yards of the empty goal. I thought, 'I have to send this to SportsCenter for a Top 10 play.' He came out of nowhere!"
Fansler, a junior in his second year of varsity, has made a career out of playing bigger than he actually is.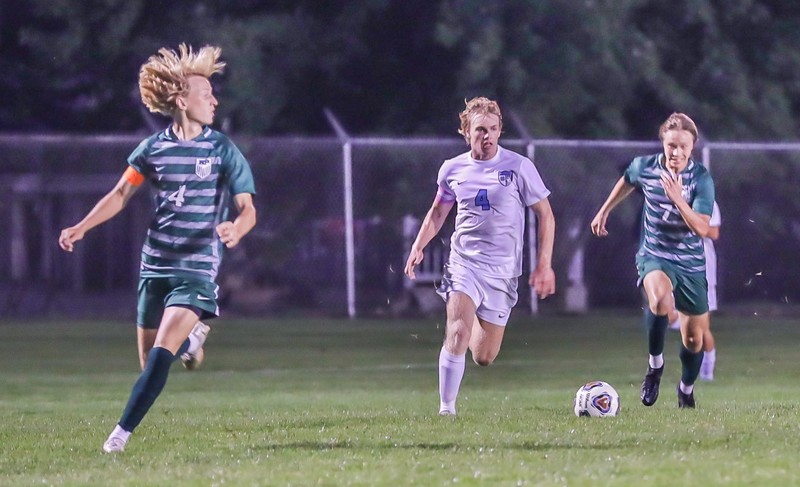 Fansler, left, hustles to cut off a Mona Shores attacker. Photo/Joe Lane
At 5-foot-7 and 120 pounds, he's at a pretty significant disadvantage against much taller and heavier opponents, but he battles like a champion and has become one of the Rockets' top defenders.
Fansler said his small size has always been a great motivator and has helped him dramatically improve his game.
"I was a basketball player for a long time, too, and (being smaller) always made me work harder," he said. "I remember talking to my parents after a lot of games, and being frustrated about my height, but they always told me to just keep working hard. It's actually made me a better athlete, because I have to play smarter, which has helped in all aspects of my game."
Fansler specializes in breaking up opponents' attacks and turning the play in the other direction.
He's probably so good at it because he loves that part of the game. Other players can score the goals and get the glory – Fansler just enjoys denying the other team that opportunity.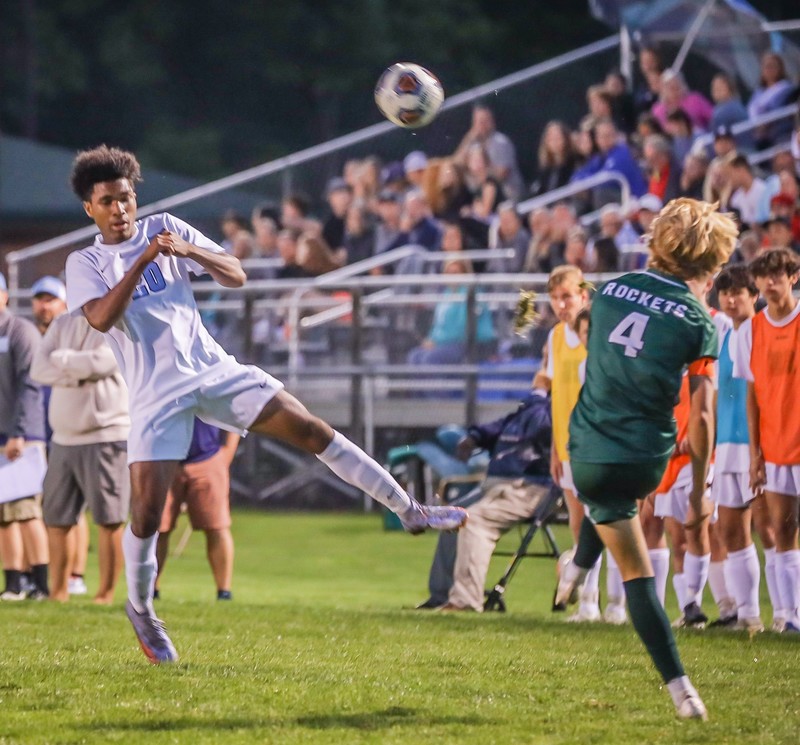 Fansler drills the ball while a Shores player gets out of the way. Photo/Joe Lane
"I've always been a pretty defensive-minded player," he said. "I firmly believe that defense wins championships. I get a lot of exhilaration out of stopping someone."
R-P soccer coach Kody Harrell has quickly learned to appreciate Fansler's skills.
"When we first called him up last year, it was strictly based on his work ethic and energy," Harrell said. "I figured he could give us some hustle, but he quickly turned into a very important player.
"He's one of those kids who's always in the right place at the right time. His attention to detail off the ball makes him so great on the ball. He's always in the right spot."
Harrell has Fansler installed as the main defender on the back line, both for his skills and his leadership abilities.
"He's the best communicator on the field, and on the back line he can see the whole field," the coach said. "He keeps the guys organized and has a non-stop motor. He's the backbone of the formation."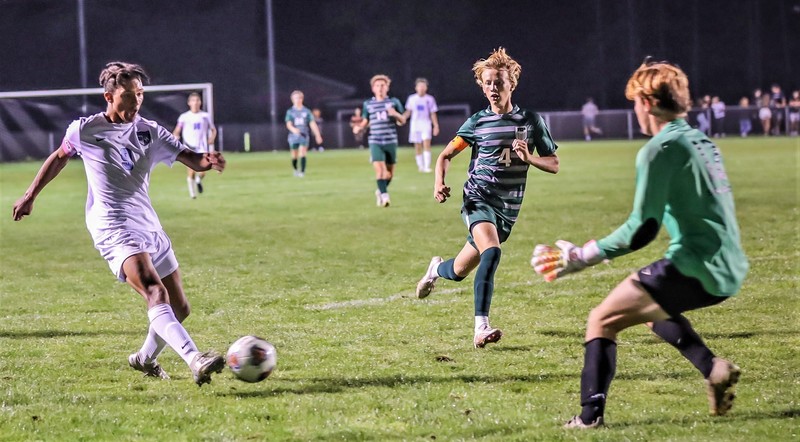 Fansler gets ready to clear the rebound while goalie Gage Hopkins prepares to make a save. Photo/Joe Lane
The R-P soccer team has struggled in recent weeks after starting the season with high expectations. There have been numerous close losses, including a heartbreaking 2-1 defeat to Mona Shores.
The good news is that the O-K Green conference tournament and districts are still ahead, and Fansler thinks the Rockets will rebound nicely, much like they did last year when they stunned the field and won the conference tournament.
"Reeths-Puffer always plays its best soccer in October," Fansler said. "You saw that in the conference tournament last year. Everyone is amped up and ready to go. We've just got to score a bit more and we'll get there."
Fansler said he and his teammates have been relaxing more on the field lately, instead of trying to live up to expectations.
"We tried the super serious approach earlier in the season and it just didn't work for us," he said. "Now everyone is really together and wanting to play for each other."