Jaxon Allen is just back from an injury that kept him sidelined for weeks, and he already has a medal.
Allen, the top runner for the Reeths-Puffer boys cross country team, posted a time of 17:03 and finished in 20th place, which earned him a medal at Saturday's Cougar Falcon Invitational at Calvin College.
"It was great to see Jaxon Allen toe the line with his teammates wearing the R-P racing jersey and testing his fitness," said R-P boys coach Darin Grant. "His finish was a good place to be after going three weeks or so with little running."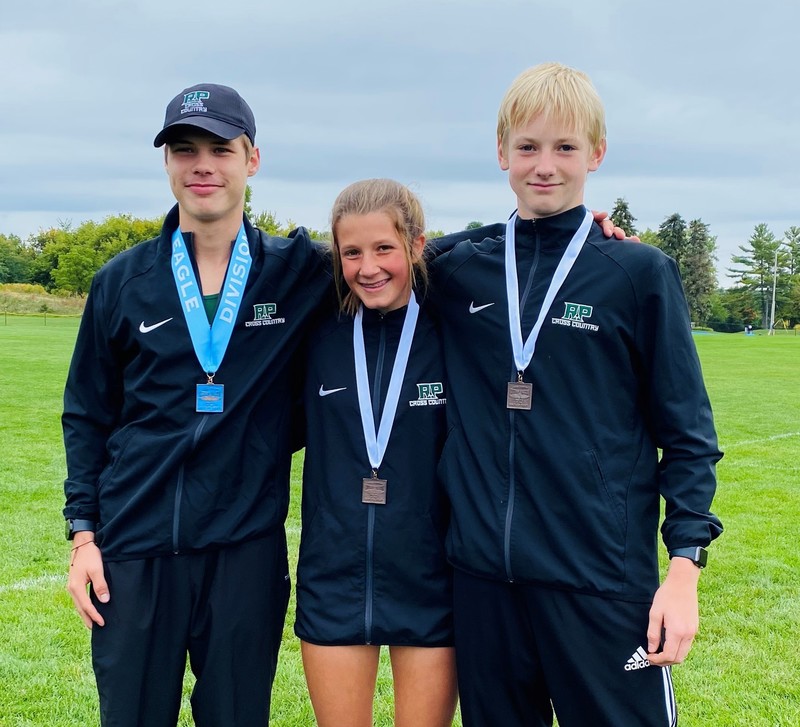 R-P's Jaxon Allen, Jersi Bilek and Jack Yonkman, who all won medals on Saturday.
Kye Grant had the second-best time for the Rocket boys and finished 29th overall. He posted a time of 17:23, which was 21 seconds faster than his previous season best and made him the 11th fastest sophomore cross country runner in school history.
Tate Bradley finished 54th overall with a time of 18:20.1 and Gage Bouwman finished 94th with a time of 21:43.2.
In the girls race, Eva Shinabery was the top R-P runner, taking 49th place with a time of 22:56.4. She was followed by Adrienne Fluette (54th, 23:21.9), Ellie Knapp (60th, 23:41.2) and Alissa Jakobi (62nd, 23:43.8).
Several Reeths-Puffer ninth-graders had a very good day in the freshman race.
Jersi Bilek took fifth place in the girls race with a 21:48 while Jack Yonkman finished ninth in the boys race with a time of 18:40.3
Both freshmen won medals for their performances.