WYOMING – The Reeths-Puffer football program has been working on changing its culture this season, and on Friday night that was evident when the Rockets traveled to Wyoming and calmly posted a 55-7 victory.
It was a game Reeths-Puffer was supposed to win, and the Rockets went about their business with the confidence of an area power.
The Rockets are now 4-1 for the first time since 2013, when they finished 7-3 and made the playoffs.
"It's a lot different," said quarterback Brady Ross about the team's new approach this season. "The way we go about things and just handle practice. Just the culture has changed a lot from years past."
The Rockets will host Zeeland East in a Homecoming clash next week in hopes of improving to 5-1 and keeping pace in the O-K Green conference championship race.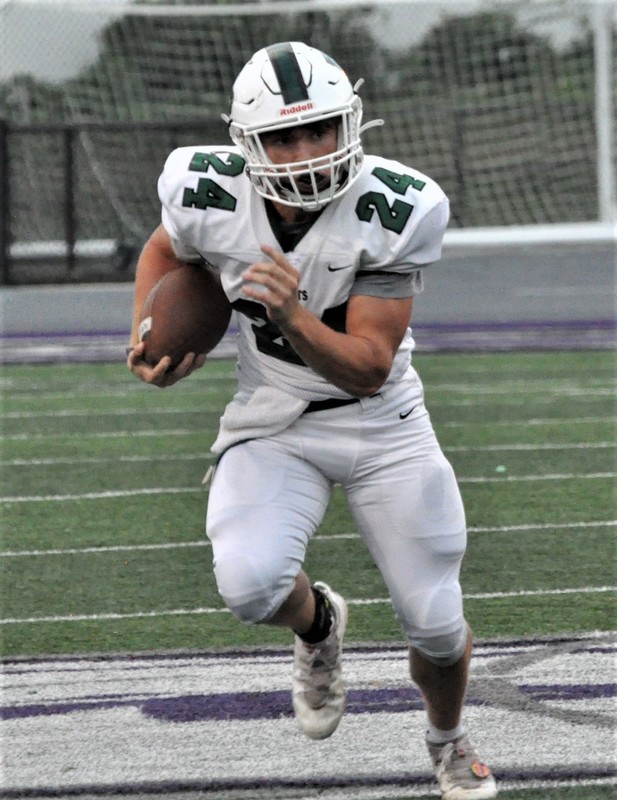 Running back Brody Johnson, who rushed for 190 yards and four touchdowns
The biggest star of the evening was running back Brody Johnson, who rushed for 190 yards and four touchdowns.
"The holes were pretty big," Johnson said. "I felt like we started out a little slow, but we got things going. After halftime we really picked it up and got the job done. The offensive line really did their job."
Ross wasted no time giving the Rockets an 8-0 lead on R-P's first drive when he scampered to the end zone on a 21-yard fourth-down run with 7:04 remaining in the first quarter.
The QB credited Johnson for a great block on the play.
"He took out the safety and gave me an easy score," Ross said. "I could've walked into the end zone. If you have guys like that, you're going to have a good team."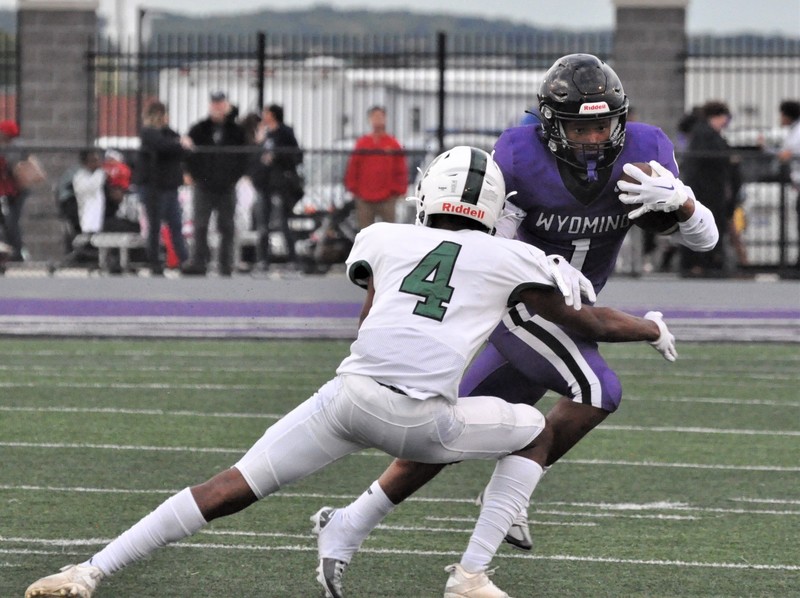 R-P's Kameron Coleman wraps up a Wyoming ball carrier.
Just 42 seconds into the second quarter, Johnson plunged in for a three-yard score to extend the Rocket lead to 14-0.
Three minutes later Johnson again broke loose for a touchdown, this time from 25 yards out, to make the score 22-0 with 8:10 left in the half.
Following a Wyoming touchdown, Reeths-Puffer faced fourth-and-goal from the Wyoming one-yard line with just two seconds left in the half.
Ross took the snap from under center and powered through to make the halftime score 29-7.
Johnson continued his strong night in the third quarter with a 62-yard scoring dash to make the score 35-7 with 6:15 remaining.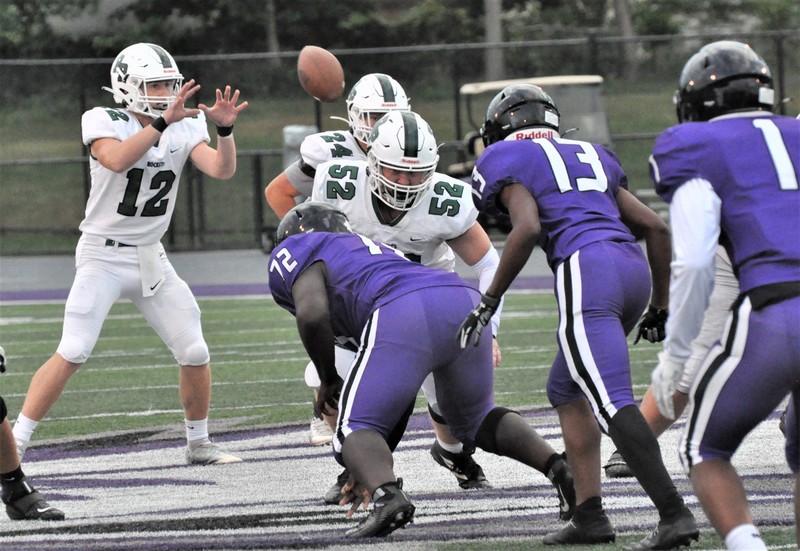 Rocket quarterback Brady Ross takes a snap from center.
Johnson scored again on a 15-yard run to give the Rockets a 41-7 lead after three quarters.
Ross found Caiden Bolduc for a 14-yard touchdown pass on fourth down to make the score 48-7, before a 73-yard touchdown run by Kameron Coleman put the cap on the scoring sheet.
R-P coach Cody Kater said his Rockets spent extra time this week on the running game, which was evident with seven rushing touchdowns on the night.
"I think that was our objective this week, to improve our running game," he said. "It was nice to see that within our players. We dedicated a lot of time to it in practice and it was great to have it show on Friday night."
Ross completed 6 of 14 passes for 52 yards and one touchdown. Caiden Bolduc led the defense with nine tackles, Tyviea Williams added six and Brooks Johnson had five.