Lots of Reeths-Puffer football players say this season has been a different type of experience, but mostly they mean they're having more fun while winning more games.
For seniorTyviea Williams, this season has been a completely new type of experience, because he's playing a completely new position.
Williams spent most of his junior season in the offensive backfield while also playing a bit on the defensive line.
This summer new head coach Cody Kater and his staff decided they needed help at linebacker, and Williams would make a good one, so suddenly he had a new job heading into his senior year.
Reeths-Puffer senior Tyviea Williams
He admits there's been a learning curve, but he's obviously doing something right. For the past three weeks, when the final game stats were released, Williams was listed among the Rockets' leading tacklers.
"Last year I was mostly an offensive guy, playing fullback and a little bit of running back," said Williams, who played a year of varsity football as a sophomore at Ottawa Hills before his family moved to the R-P district. "I was mostly doing a lot of blocking schemes and stuff like that.
"This was a challenge at first, but I was excited about it. I knew there was a lot of work to be done and I just stepped up. I love it now. I would rather play linebacker than be on the other side of the ball."
Offensive players may get more headlines, but defenders get to apply the hits, and that part appeals to Williams.
"When you're running the ball you try to avoid contact to a point, and on defense being the one getting the hit is so much better," he said. "I love it a lot more."
Williams was obviously still figuring out his new job in Week 1, when the Rockets beat Grand Haven but he didn't make the team stat leader chart.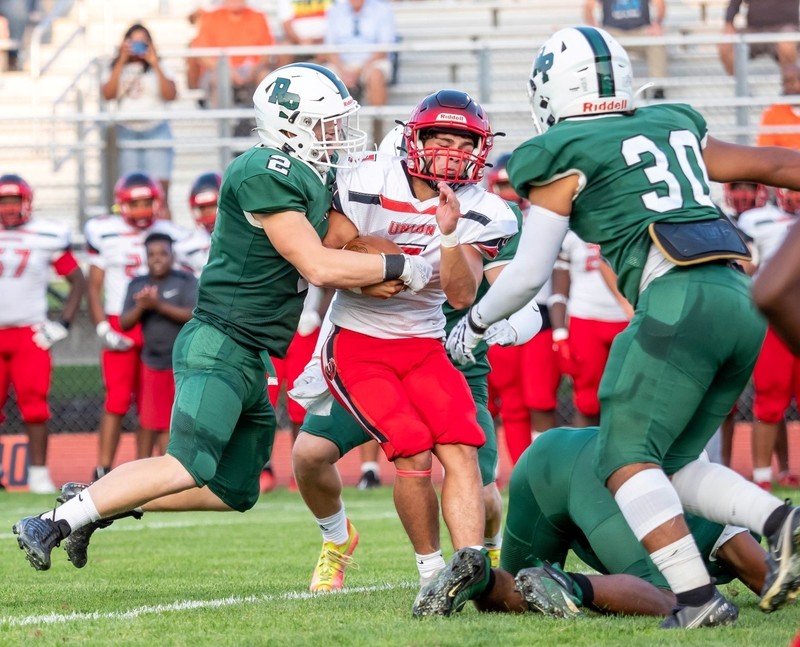 Williams (3) moves in to help finish off a tackle against Grand Rapids Union.
That changed in Week 2 against St. Johns, when Williams broke loose for six solo tackles, three assists and had an interception.
He had 13 tackles in Week 3 against Muskegon and nine in last week's thrilling win over Grand Rapids Union.
Those numbers are still not good enough for Williams, who gave himself an "average" rating when he was asked to judge his own performance.
"You have lots of different jobs as a linebacker and I'm trying to learn them," Williams said. "I still have a lot more stuff to do and a lot more to prove."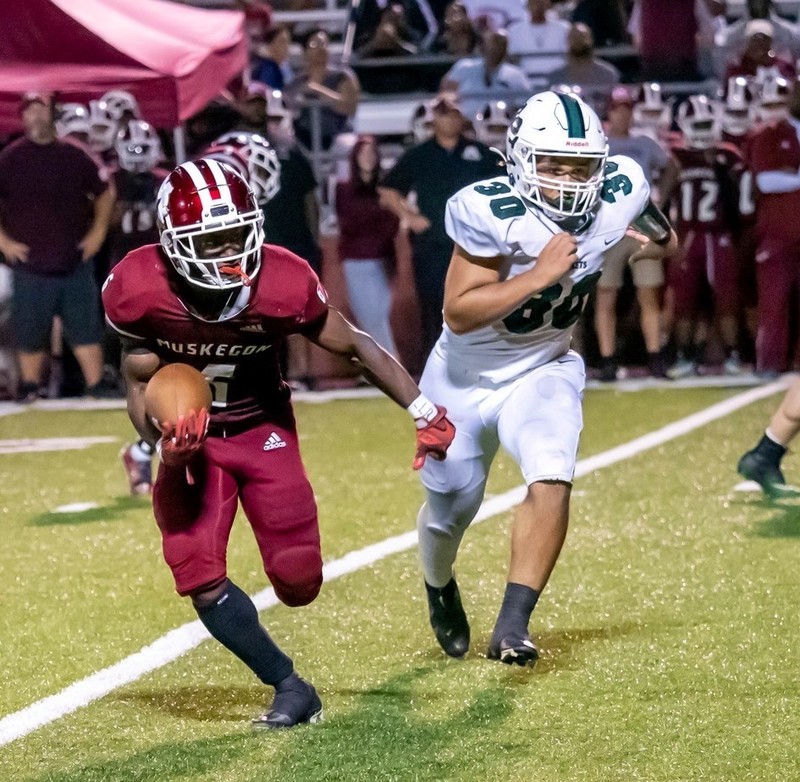 Williams moves to prevent a Muskegon ball carrier from turning the corner.
The coaches like to hear that kind of talk, but they're also very pleased with how Williams has been playing.
"Ty is a natural 'big skill' athlete who has played a ton of different positions during his career," said Alex Smith, R-P's assistant head coach and defensive coordinator. "When we first got here in January the plan was for him to play defensive line, then he had a great offseason, shed some weight and committed himself to learning the nuances of the linebacker position.
"I think his best football is still in front of him, and we're looking forward to seeing him continue to grow through the back end of our season. He has been a lot of fun to coach."
Williams and his fellow Rocket defenders have been put to the rest in recent weeks, facing high-powered offenses from Muskegon and Grand Rapids Union.
They gave up their share of yards and points, which was not surprising, but they also made some big stops at key moments in both games.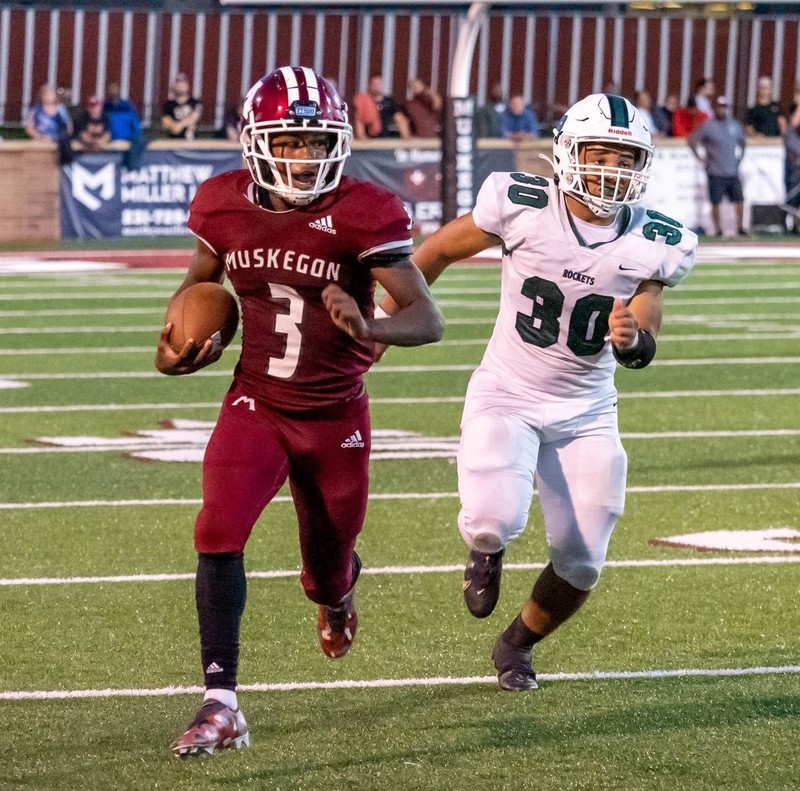 Williams pursues Muskegon quarterback M'Khi Guy at Hackley Stadium.
The biggest stop came last Friday against Union, when the Red Hawks had the ball on fourth down at the R-P six-yard line in overtime. If they scored and kicked the extra point, they would have won.
But the Rocket D held strong and the 35-29 victory was preserved when Union quarterback Tommy Stevens threw an incomplete pass into the end zone to end the game.
"I told myself 'This is a moment that will show our character. We have to step up right here,'" Williams said.
The exciting first few seconds after the final play were incredible, he said.
"I felt electrified," Williams said. 'It was the type of feeling that a lot of people never experience."