Even after giving the Muskegon Big Reds a serious run for their money two weeks ago, the Reeths-Puffer football team had an unchecked box on its growth list.
The Rockets pushed a great team, but they didn't beat one, and from a confidence perspective there's a big difference.
For Reeths-Puffer, it's been a step-by-step mental growth process through the first four weeks of the season.
The Rockets established a foundation of confidence with a Week 1 victory over Grand Haven, something they hadn't done very often in recent years, and built on that foundation with a Week 2 win over St. Johns.
But Grand Haven and St. Johns currently have a combined 1-7 record, so no Goliaths were conquered.
The Rockets were very much in the Week 3 game at Muskegon all the way into the fourth quarter, but faded a bit down the stretch on both sides of the ball.
R-P finally got over the hump last Friday when it kept fighting all the way to the thrilling end and downed previously unbeaten Grand Rapids Union 35-29 in overtime.
It had to be the most exciting game at Rocket Stadium in years.
Reeths-Puffer had an eight-point lead late in the contest but gave up the game-tying touchdown and two-point conversion with 10 seconds left, both courtesy of Grand Rapids Union quarterback Tommy Stevens.
The game went into overtime and the Rockets scored on their second play on a 10-yard pass from Brady Ross to Tayte Vanderleest. But Reeths-Puffer botched the extra point, giving the Red Hawks a solid chance for the victory.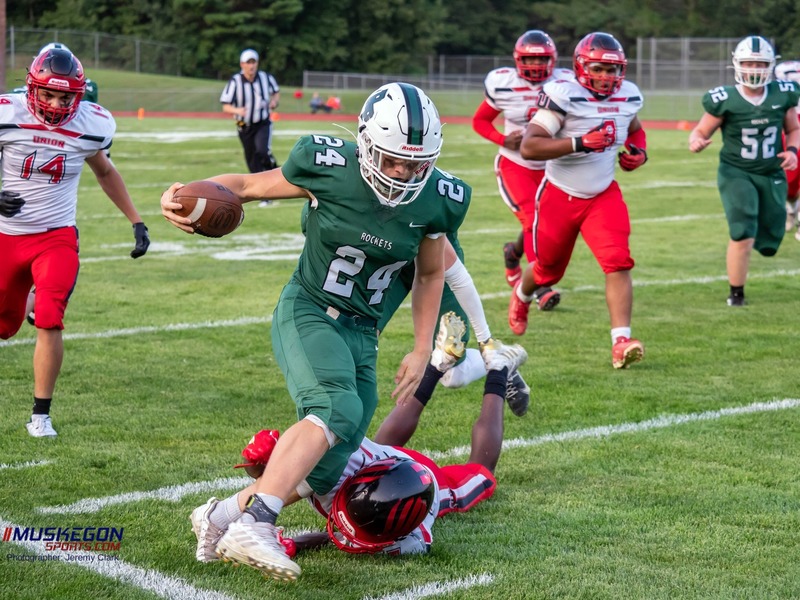 Union managed to move the ball all the way down to the one-yard line on fourth down, but was ticketed with a penalty that pushed the ball back to the six.
Stevens then attempted to sling a touchdown pass while rolling to his right, but he threw two feet above his receiver's arms and the Rockets held on for the win.
When the celebrations ended and the crowd dispersed, one important fact was clear: The Rockets had conquered a great team for the first time in their comeback season, and now they know that anything is possible going forward.
"After the Muskegon game, to be able to rebound and be able to close a game out was important," said R-P head coach Cody Kater. "It's easier to coach these guys after a victory than after a loss.
"We had another opportunity to go up against another 3-0 team, and to be able to rebound and close the game out gives the guys more confidence that what we're doing is working."
After two straight weeks of preparing for and playing great teams, the Rockets will have a different type of challenge when they visit Wyoming on Friday in another O-K Green conference game.
Wyoming is 0-4 on the season, and the Wolves have been blown out in all four contests – 48-7 against Forest Hills Northern, 42-14 against Northview, 48-22 against GR Union and 48-14 against Mona Shores.
The Rockets know they will be facing a struggling opponent, and they will have to avoid a letdown.
Kater says that won't be an issue with his team, because the Rockets focus far more on themselves than on any opponent, good or bad.
"We've just been continuing to focus on us and what we have to do," the coach said. "It's been R-P vs. R-P."
Friday's game is important from a conference point of view, because at 1-1 the Rockets are very much in the thick of the O-K Green championship race.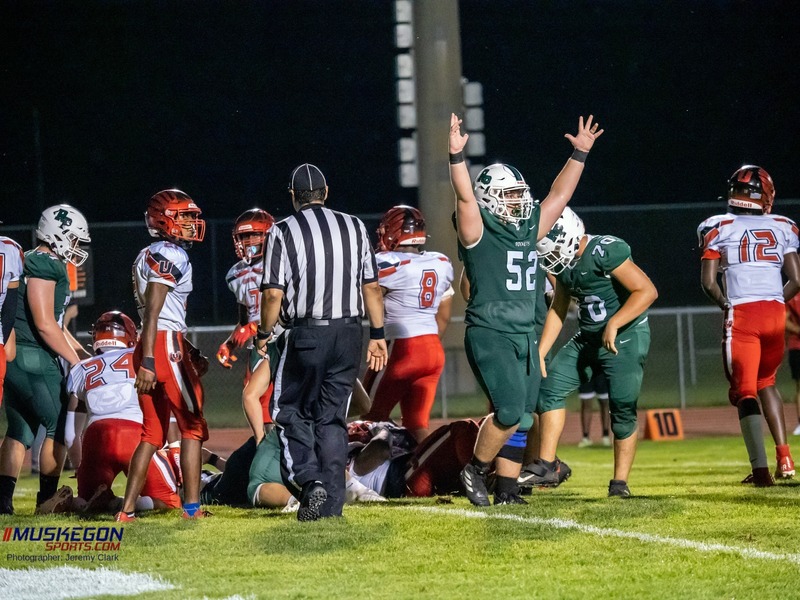 With powers like Muskegon, Mona Shores, Zeeland West and now Reeths-Puffer going head-to-head, it's quite possible that the eventual champion (or co-champions) could have a league loss.
Muskegon, Mona Shores and Zeeland Weat are all 2-0 in the conference while R-P and GR Union are 1-1,
Two losses, however, would likely be too much to overcome.
After Wyoming the Rockets will face Zeeland East, another struggling O-K Green squad, followed by huge challenges against Zeeland West and Mona Shores.
Kater said a conference championship is a legitimate goal.
"It's always first things first – closing the gap within our county, then making sure we can compete within our conference," he said. "If we can do that we will have a product that could possibly make a run in the playoffs. It goes from county to conference to playoffs.
"It's about prolonging our season as much as possible. The more time we get to spend with each other, the better season we'll have."