Only three Reeths-Puffer golfers were able to compete at Wednesday's Greater Muskegon Athletic Association Tournament at Stonegate Golf Course, but they all had very good outings.
R-P junior Paige Anderson, one of the favorites, finished second in the big local event with a score of 80, which was five shots better than her score at the tournament last year.
While most area golfers would be thrilled with that performance, Anderson felt she could have done better.
"Paige is a competitor, and she felt she left some shots out there today," said R-P Coach Matt Pallett. "She got off to a slow start and just couldn't really get anything going. She battled all day.
"She continues to be a great teammate and celebrates with her teammates for their achievements. I am proud of her."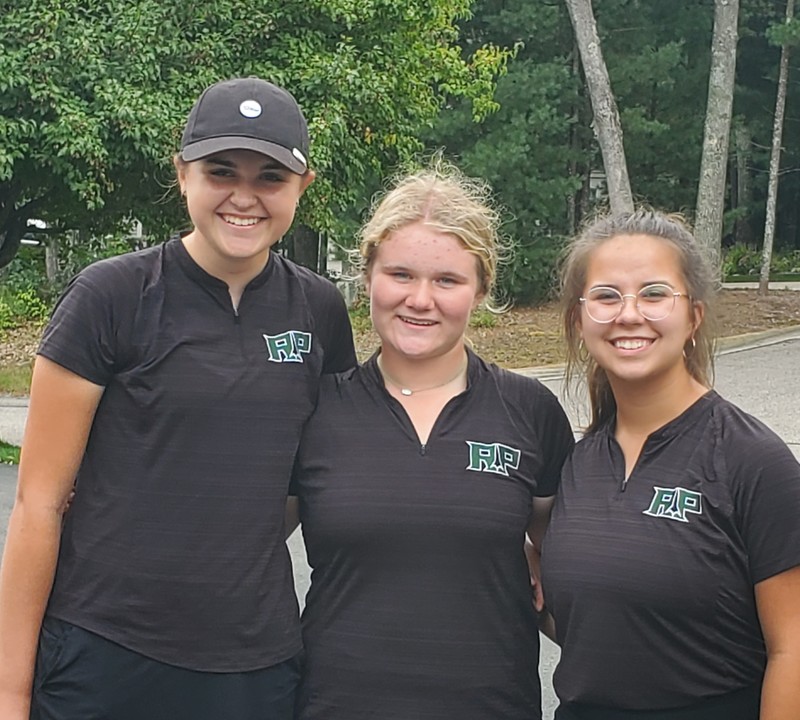 R-P's Paige Anderson, Rowan Bluhm and Avery Luna, who all played well at the GMAA tournament
R-P's Rowan Bluhm had a very exciting day, finishing sixth individually with a score of 94 and winning a medal. Bluhm missed the first part of the season while recovering from a hand injury and had her best outing of the season.
"Rowan Bluhm had a great day," Pallett said. "I am so happy for her. To place in the top ten in the city, especially after dealing with an injury early in the year, is incredible."
Reeths-Puffer's third competitor, Avery Luna, shot a 117 and beat her previous best score on the course by 13 shots.
"I loved hearing Avery Luna talk about how her score could have been better and how she can still improve," Pallett said. "This was after shooting 13 strokes better than her previous best at Stonegate."