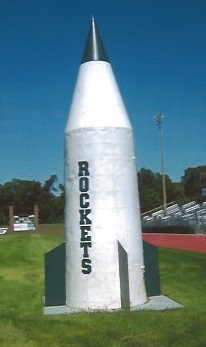 FROM ONE ROCKET CITY TO ANOTHER!
While helping America win the space war, von Braun did a great deal of his work in Huntsville, Alabama. Huntsville's nickname? Rocket City!

ROCKET HISTORY
Time to test your Reeths-Puffer history! Did you know that our rocket inside of Rocket Stadium is a real rocket? Did you know that it was built in Germany and designed for space exploration? Well, now you do.
Thanks to Mr. Jack Moore, a World War II veteran and former R-P School Bus Transportation Supervisor, we know quite a bit about our beloved rocket. We have the upper section of a V2 rocket that was constructed in Germany in the 1940s, and it was later purchased by Reeths-Puffer in the 1970s.
After World War II, many German scientists came to America, including a man by the name of Wernher von Braun. Mr. von Braun was the lead scientist responsible for the development of the V2, and when he first came to the U.S. he was working at Fort Bliss, Texas, which is where Jack Moore was stationed at the time.
In addition to his work on the V2 rocket, von Braun helped develop the Redstone missile and Saturn V. The Saturn V was the rocket that took the first men to the moon in 1969. Mr. von Braun would later relocate to Washington, D.C., where he was appointed as NASA's Deputy Associate Administrator for Planning at NASA Headquarters.
This rocket, designed in hopes of reaching for the stars, is an important and appropriate symbol for Rocket City, and for all of our Rockets who also continue to reach for the stars. Thank you, Jack Moore, for your service to our country, and for helping us tell this important Reeths-Puffer story for generations to come!
HISTORY OF REETHS-PUFFER SCHOOLS
The Reeths-Puffer School District was originally part of the forest area which was logged off between 1860 and 1880 by vast logging operations in Michigan. An early plat of the district in the Atlas of Muskegon County, published in 1881, lists the following as land owners: G. B. Slocum, Albert Baxter, Mary Ruddiman, J. Sherman, William E. Carrier and Jon Miller. The Muskegon Boom Company owned all of the land adjacent to the Muskegon river. In the beginning, several small school buildings were constructed and operated as individual school districts. These districts eventually annexed to become what is now known as the Reeths-Puffer School District.
Mr. Soloman Puffer, the father of one of our school district's founders, was a farmer in the area. He was born in Seneca County, New York, and came to Muskegon shortly after 1859. His son, Mr. Hiram Puffer, was born and raised in New York and began teaching school for his children and neighbor children in his home. He moved to Muskegon County and later donated land to build the first school in the 1870s. He personally furnished the materials, completed all the work , and taught school when the building was complete. The Puffer School, located on the corner of East River and Sheridan Roads, became the first educating facility in the area. In approximately 1925, the original building was replaced by the present brick building. Puffer School has now been remodeled into an attractive two-family housing structure.
Next came the Pillon and Baxter School buildings. The Pillon School was built on the corner of Pillon and Bard Roads. In approximately 1925, the school was destroyed by fire and replaced by a two-room brick structure, known as Sunnyside School. The Baxter School named after the property owner on whose land the building was erected, stood on E. Giles Road (approximately the playground area currently used at Reeths-Puffer Elementary School). The children were relocated in 1903 to a new building built on the northeast corner of North Getty and East Giles Roads. (The Baxter School was moved to a lot on Pappas Road to be used as a home.) The new building was named Reeths School in honor of Mr. Charles Reeths, who had 11 children in school and was interested in education. He served on the school board until approximately 1929 when he moved to California. The school stood at its original site until 2003.
The Reeths district found its school buildings filled to capacity in 1947, and a $70,000 bond issue was negotiated to construct four new classrooms adjacent to the Reeths School and a heating plant.
The Reeths and Puffer districts were merged on November 29, 1946, into an agricultural district known as Reeths-Puffer Rural Agricultural School District. The first Reeths-Puffer Board of Education was organized on December 14, 1948. The school name, as decreed by law, was chosen by the Muskegon County Superintendent, Mr. James TenBrink. Total enrollment in kindergarten through 8th grade was 298, with a teaching staff of eight. Mr. Lloyd Shaffer served as both teacher and principal of the district. He was later named Superintendent of Schools. Because increased space was needed, five additional classrooms were built in 1949 adjacent to the Reeths School, at a cost of $125,000. Students occupied the new Reeths-Puffer building in 1950.
The Sunnyside School District annexed with Reeths-Puffer in 1951. Student enrollment at that time was approximately 470 with a staff of 17 instructors. About 100 high school students, grades 9th through 12th were transported to Holton, Muskegon, and North Muskegon High Schools. Sunnyside School building is still standing in its original location at the corner of Pillon and Bard Roads. As with many original buildings, the structure has been renovated into a home.
In 1952, an additional $225,000 was approved for building, which increased classrooms by seven and added a cafeteria/auditorium, a necessary addition for the enrollment of 540 students, grades kindergarten through 8th. As enrollment continued to grow, community leaders recognized a need for an even larger school facility. In June of 1954, electors approved a $690,000 bond issue to build a secondary school, and an addition $600,000 was then approved to also add a high school wing.
January of 1956 saw the dedication of the Reeths-Puffer Junior High School building, which is now part of the old senior high school building on North Getty. School enrollment had reached a high of 698 students, grades kindergarten through 10th. In the fall of 1958, Reeths-Puffer Schools opened its doors to its first full year as a kindergarten through 12th grade school, with an enrollment of 1,123 and a building addition of 20 classrooms, laboratories and shops. The first graduating class of 34 seniors graduated in June 1959. Three years later, in 1962, another addition to the building provided 11 elementary classrooms, a new cafeteria/multipurpose room, a large study hall, new library, additional locker rooms and a new wood shop.
In the ensuing years, Reeths-Puffer continued to grow. Student enrollment continued to increase, and a number of outlying school districts began to annex with Reeths-Puffer. On June 25, 1963, Baker School District annexed with Reeths-Puffer Schools, adding a four-room elementary building on the corner of Bard and Russell Roads. Student enrollment had now reached 1,647.
Laketon Central School District was originally developed from a consolidation, in 1948, of Maple Ridge, Benjamin, Green Creek, and Giles Schools. McMillan School joined the Laketon Central District on February 2, 1953. The annexation between Reeths-Puffer and Laketon Central took place on May 4, 1964. This addition brought enrollment to 3,485 and added a new junior high and four new elementary buildings to the Reeths-Puffer District.
In 1966, the nine-year dream of a Reeths-Puffer Community School program came into existence, offering adult and continuing education programs to community citizens. Twin Lake School annexed with Reeths-Puffer on February 13, 1968. This added another elementary building to the district and brought total enrollment to 4,361 students.
In 1976, the Reeths-Puffer Schools presented the one-room Maple Ridge School to the Muskegon Area Intermediate School District to be restored and used as a museum to provide students with a taste of how school was conducted at the turn of the century.
One of Michigan's last kindergarten through 6th grade districts, Duck Creek Schools, was originally comprised of Gorden School (also known as the Anderson Building), located on the corner of Riley Thompson and Whitehall Roads, and Collins School, located on Riley Thompson Road just west of Weber Road. These two smaller districts merged in 1953 to become Duck Creek School District. On May 14, 1981, Duck Creek annexed with Reeths-Puffer Schools. This completed the approximately 70-square miles of today's Reeths-Puffer School District.
The Reeths-Puffer School District has a rich heritage from one-room schools, such as Green Creek, Benjamin, Puffer, Maple Ridge, Baker, Reeths, Sunnyside and Giles. Thanks to dedicated individuals, such as Mr. Charles Reeths and Mr. Hiram Puffer, who had a dream for better educational experiences for our children, Reeths-Puffer Schools has become a state-of-the-art educational facility for children.