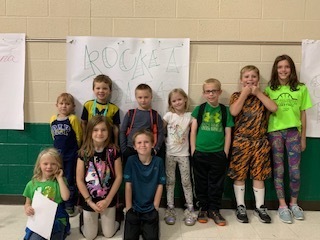 ROCKET LANDING RECOGNITION 10-14-19
Dawn Schmitt
Monday, October 14, 2019
ROCKET STAR TEACHERS OF THE WEEK...
Let's see if we can guess who our Rocket STAR Teachers of the Week might be….Both teachers teach. They both live in the Twin Lake area. One teacher loves the outdoors and enjoys dressing up for Halloween. The other teacher lives on the lake, and plays the guitar. Both teachers worked really hard on the Walkathon fundraiser and came up with ideas for prizes. Our Rocket STAR Teachers of the Week are Mrs. Kolbe and Mr. Richards!!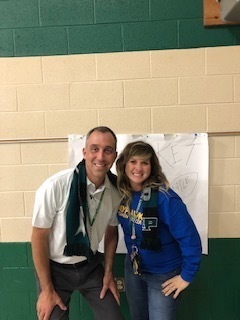 ROCKET STAR SLIP DRAWING WINNERS
Mrs. Monaweck: For being respectful and hardworking~ Eli
Mrs. Palazzolo: For taking pride in her work~ Keirza
Mrs. Greene: For taking pride in her work~ Royce
Mrs. Bradford: For showing integrity by doing what's right~ Waylon
Mrs. Zweigle: For being a model learner in Spanish~ Tommy Mrs. Kinstner: For doing the right thing without being told~ Chloe
Mrs. Kolbe: For being helpful in Spanish class~ Joseph
Mrs. MIller: For taking pride in the Spanish classroom and helping to straighen~ Neila
Mr. Richards: For being a compassionate classmate~ Landon
Mrs. Olsen: For following directions quickly, excellent focus and on task behaviors~taking pride i his learning~ Clay
Mr. Schuppe: For being helpful to others~ Ellie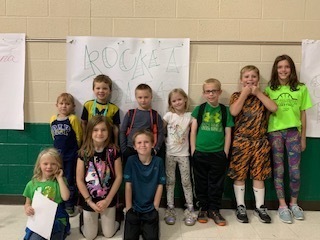 RED BANDANNA KIDS
Red Bandanna Kids are selected every two weeks by their fourth grade teachers, Mrs. Olsen and Mr. Schuppe. They are chosen for consistently showing the Rocket Way and being a good example for others to follow. Our new RBK's for the next two week are:
Kayleigh B.
Brystol T.
Savannah S.
Braiden C.
Zach R.