Reeths-Puffer Schools is in need of Guest Teachers and Guest Paraprofessionals.  If you are interested in learning more about becoming a Guest Teacher or Guest Paraprofessional, please contact Rob Renes at
renesr@reeths-puffer.org
.

We are looking forward to this Saturday as we raise our RPTLE hoophouse! Our goal is to come together as a school community and exhibit teamwork, flexibility, cooperation, and most importantly to display Rocket Pride! We have many families signed up to lend a hand. Please be patient as we work to rotate teams so all can be a part of this amazing day! Be ready to dive in and build or cheer us on from the sidelines. (No tools needed.) Feel free to bring a chair or a blanket to use while you wait for your turn in the rotation and while you enjoy your hot dog lunch. Let's do this!

Families~ Follow the link below for more information about the Thanksgiving lunch that our food service department will be offering.
https://5il.co/as8r

A reminder that we have a half day of school tomorrow with dismissal at noon.

PICTURE RE-TAKE DAY October 17 (a.m.) If you would like to have your child's picture retaken, please be sure to send a note to your child's teacher by Wednesday, October 16. If your student does not have a note they will not have their picture retaken. If your child was absent on picture day, no note will be necessary to have a picture taken. Please send your picture package choice with your child to school. Thank you!


Family Reading Event is this Friday from 9-10. Last chance to RSVP today, so that we have "head count".

Families~ A reminder to help your kids dress for the Michigan weather. Have them bring a jacket and wear pants, or something to cover their little legs. The cooler weather is upon us!

2019 Boys Youth Basketball League Signup Deadline is October 26, 2019. Follow the link for details.
https://bit.ly/2mV5otM

Bus 7616 has mechanical issues and the kids are just leaving RPTLE on a different bus. The bus they will be riding is bus 15. Kids will be late. Sorry for the inconvenience. Call 7441647 x 2411 with questions.

Walkathon is on! See you at TL County Park. Register at 12:45 and walk at 1:00. Dress warm and bring a raincoat and umbrella, just in case.

Our TL Walk-a-thon is just 2 days away! This Sunday, we will meet at Twin Lake County Park to walk and celebrate. And, we will be CELEBRATING! The teamwork, dedication and generosity of our community allowed us to raise over $8,000! Can I get an O YEAH?!! That is enough to purchase a hoophouse for our school. Our walk-a-thon begins with registration at 12:45. The walk starts at 1:00. This is a RAIN or SHINE event. We know there are showers forecasted, but the show must go on. Bring an umbrella or raincoat if needed. A complimentary hot dog lunch and celebrations will happen after our walk. We hope to see you there for the exercise and fun! --

Big push this week for our Hoop House fundraiser. Walk-A-Thon is a week from today at 1 pm at TL Park.

Reminders Week of 9-16-19 Tuesday the 17th Constitution Day:wear red, white and blue Kindergarten Family Literacy Night: 5:30-7:00 at RPEL Friday the 20th: Dismissal at noon due to teacher professional development. Bring $1 and wear your jammies to school. Calm Toolkit classroom fundraiser.

Elementary Spanish Teachers Needed - If you are certified and interested in one of these positions or know someone who is, click on the following link
http://bit.ly/2m86b9W

Kinder families! Don't forget! Tonight is our Family Literacy Night at RPEL. Dinner at 5:30. Event from 6-7. Don't worry if you didn't RSVP.

A reminder that Picture Day is this Wednesday, September 11th.

Hey Families! We're going to have our first all-school family reading event on Friday, October 11th from 9 am-10 am. Parents will have the chance to watch teachers model reading strategies with their learners. Mark you calendar and look for more information to come.

Thank you RPTLE! You raised $159.25 on Hat Day for our veterans! Rocket Three!👏👏👏

Parents~ we're looking for moms who are interested in coaching a Girls on the Run team next Spring. If you'd like more information, please call Mrs. Schmitt at 719-3190 x 2225. Thanks!

A reminder to bring a donation for Hat Day tomorrow. Proceeds will go to our veterans during the Sailor Salute football game between RP and Shores on the 13th at Shores. Thanks to our RPHS impact group for organizing!

We're raising money for our veterans with a Hat Day this Friday. Bring a dollar and wear a hat! Proceeds will be included with other RP schools and shared during the RP/Shores game on 9-13. The fundraiser is sponsored by our high school Impact group. Let's make a difference for our Vets!

Families~ busses pulled out at about 4:10. Please expect your little ones home a few minutes later than normal.

RPTLE opens it's doors at 8:20 a.m. for children who eat breakfast at school. All other children may enter school at 8:30 a.m.The school day begins for all other learners at 8:40 a.m. and the school day ends at 3:45 p.m. Lunch times vary by grade level. Please contact your child's teacher, or our office, if you are in need of lunch times.

We're ready! Can't wait to see our learners tomorrow. Reminder that K kiddos and parents go to the library, no earlier than 8:30. School starts at 8:40 and kids who eat school breakfast are welcome to come inside at 8:20. Here's to a great school year!

School yard cleanup tonight! Meet at 6:30 by the main entrance and stay as long as you can. Brings rakes, shovels and muscle. See you then!

School yard clean up this Thursday from 6:30 - ? We have weeding, planting, playground sand raking and soccer nets to move. Brings rakes, gloves and muscle!

We're thrilled to announce Reeths-Puffer Schools' new app! Access sports scores, cafeteria menus, news updates, even emergency notifications. Download the app on Android:
http://bit.ly/2yHt6vS
or iPhone:
https://apple.co/2OPsijA
.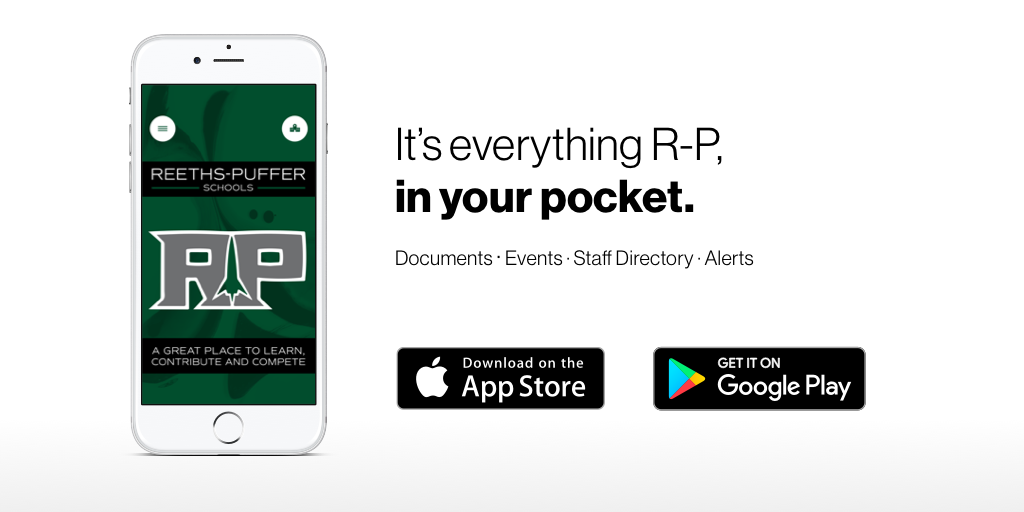 We're looking for lunch monitors for the upcoming school year at RPTLE. If interested, please contact Mr. Renes at 744-4736.

School yard clean-up on Thursday, August 22nd from 6:30 - ? Bring your work gloves, rakes and muscle!

Meet and greet your teacher and learning partners on Wednesday, August 28th. Kindergarten Orientation and Meet and Greet from 5:45- 7:30 and 1st -4th grade Meet and Greet from 6:30 - 7:30.